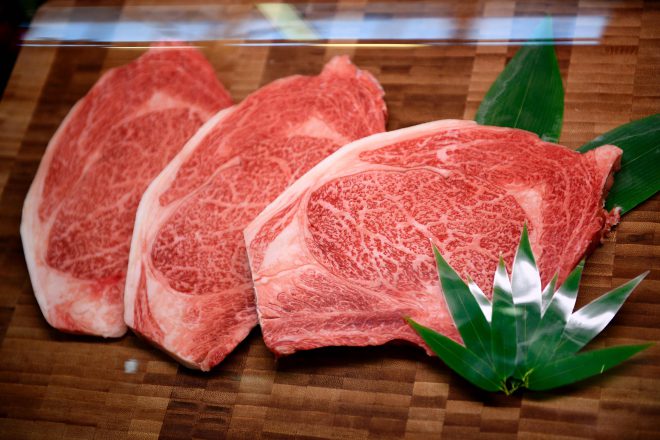 April 11, 2017
SYDNEY- Australia is extending its lead over other countries as a major global exporter of "wagyu," or Japanese breeds of beef cattle, mainly in Asia.
Australia exported some 100,000 wagyu cattle in 2016 and the number is forecast to increase at an annual rate of 30 pct to reach about 276,000 in 2020, according to the Australian Wagyu Association.
Gina Rinehart, a female billionaire with estimated wealth of 14.5 billion US dollars built on her iron ore business, is credited with the rapid growth of the wagyu industry in Australia in recent years.
To build a diversified cattle holding, Rinehart purchased a series of huge farms including the cattle empire of S. Kidman & Co. roughly as large as the national area of South Korea. The total area of farms owned by Rinehart accounts for 1.5 pct of land in Australia.
Rinehart is especially focusing on raising Japanese breeds of cattle, already having some 8,000 wagyu cattle.
In a speech on
Feb. 7
, Rinehart described her 2GR Premium Fullblood Wagyu Beef brand as "a high-quality beef product that will bring some of Australia's finest produce to diners in Asia, and in the longer term, around the world!"
With rising income levels adding fuel to the westernization of eating habits in China, Rinehart expects that the consumption of wagyu and other beef will increase explosively in the world's second-largest economy.
Wagyu refers to any of four Japanese breeds of beef cattle--Kuroge (black), Akage (brown), Mukaku (polled) and Nihon Tankaku (shorthorn)--and has a high percentage of oleaginous unsaturated fat.
The wagyu business in Australia is traceable as an industry to David Blackmore, known as the "father of wagyu."
In the 1990s, genes of wagyu were kept in secret in Japan, but Blackmore somehow obtained some and began breeding wagyu cattle in Australia. Rinehart subsequently purchased a large herd of Kuroge wagyu cattle from Blackmore.
While marbled wagyu beef is popular in Singapore and Hong Kong, restaurants usually serve the meat from Australia, which replaced Japan as the principal supplier due to a ban on exports from Japan following an outbreak of foot-and-mouth disease in 2010 and the nuclear disaster at Tokyo Electric Power Company Holdings Inc.'s Fukushima No. 1 plant, caused by the devastating March 2011 earthquake and tsunami. (Jiji Press)