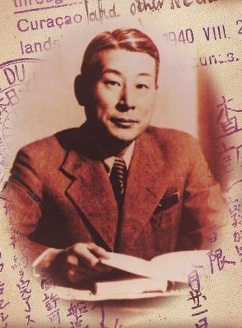 April 23, 2017
WASHINGTON- A movie depicting the life of late Japanese diplomat Chiune Sugihara, who issued transit visas to thousands of Jews fleeing Nazi persecution during World War II, was shown in the US Department of State
on Thursday
.
The screening party was joined by CME Group Inc. chairman Emeritus Leo Melamed, 85, one of the Jewish people who escaped to the United States using the visas, which have come to be known as "Visas for Life."
The event was cohosted by the Department of State and the Japanese, Lithuanian and Israeli embassies in Washington, to help mark this year's Holocaust memorial day. Some 150 people, including diplomats and university students, watched the movie.
"Sugihara's instinctive reaction contrary to the orders of his foreign office saved the lives of over 5,000 Jews from certain death. I was one of those lives," Melamed said in a speech he gave before the showing of the film.
"Descendants of those saved now number in the hundreds of thousands," the US financial bigwig said, praising Sugihara's achievement. "It is said if you save the life of one person, it is as if you have saved the entire world."
Then working in Kaunas, Lithuania, Sugihara issued visas to Jews from a humanitarian viewpoint, defying the instruction of the Japanese Foreign Ministry.
In a question-and-answer session after the speech, Melamed was asked what the thinks of US President Donald Trump's move to ban entry of refugees fleeing from the conflict in Syria. (Jiji Press)