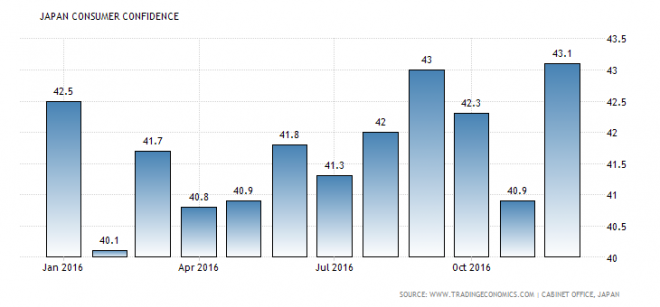 January 10, 2017
TOKYO- Japanese consumer confidence rose in December from the previous month, improving for the first time in three months and hitting the highest level in three years and three months, amid the solid performance of Tokyo stocks and a weak yen, government data showed Tuesday.
The seasonally adjusted index of sentiment among households made up of two or more people stood at 43.1, the highest level since September 2013, when Tokyo secured the right to host the 2020 Olympic and Paralympic Games, a Cabinet Office official said. The index was up 2.2 points from November.
The government, however, left its basic assessment of the index unchanged from the previous month, saying "the pace of the pickup in consumer confidence is becoming moderate." The Cabinet Office official said the improvement was not significant when compared with the three-month average.
A reading below 50 suggests pessimists outnumber optimists. The survey polls consumers regarding the economic outlook for the coming six months.
"Vegetable prices were rising in October and November but fell a little in December," the official said.
All of the index's four components showed improvement in December, with consumers' assessment of livelihoods climbing 1.9 points to 42.0 due to the fall in vegetable prices and their readiness to buy durable goods increasing 2.3 points to 42.8.
Their assessment of employment conditions was up 3.2 points at 45.7, while that of income growth rose 1.5 points to 41.9.
In the survey, 74.2 percent of households said they expect consumer prices to rise in the year ahead, unchanged from November.
The consumer confidence survey, conducted Dec. 15, covered 8,400 households, including single-member households, with valid responses received from 5,535, or 65.9 percent. (Kyodo News)