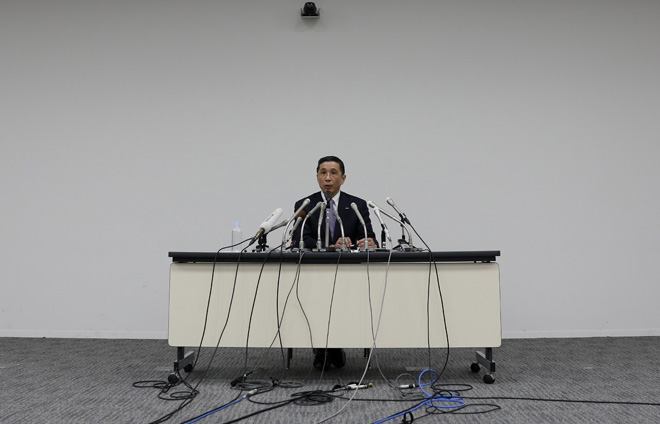 October 20, 2017

Japan's Nissan Motor Co. said Thursday that it will suspend shipments and sales of all vehicles for the domestic market made at all six group plants in the nation as unqualified technicians were found to have continued taking part in final inspections of finished vehicles even after the recent revelation of the irregularities.

Nissan will also carry out an additional vehicle recalls. With the new revelation suggesting the major automaker's poor internal control and its failure to take the problem seriously, the company's management looks certain to face stronger criticism.

The company earlier said that unqualified workers had took part in final inspections of finished vehicles at all six group plants in Japan.

After the announcement of the misconduct, however, such inspections continued at four of the six plants.

The four are Nissan's Oppama plant in Yokosuka, Kanagawa Prefecture, its Tochigi plant in Kaminokawa, Tochigi Prefecture, the Shonan plant of affiliated Nissan Shatai Co. in Hiratsuka, Kanagawa, and Nissan Motor Kyushu's plant in Kanda, Fukuoka Prefecture.

Some 34,000 vehicles made between Sept. 20, when Nissan announced measures to prevent similar wrongdoing, and Wednesday were inspected by unqualified technicians, Nissan said.

Of them, about 4,000 vehicles have already been sold, and the company will report a recall of the vehicles to the transport ministry.

"I sincerely apologize to those who put trust in the preventive measures," Nissan President Hiroto Saikawa said at a press conference Thursday.

Nissan will take fresh preventive measures, and it is expected to take at least two weeks for the company to resume domestic vehicle shipments.

As part of the new measures, Nissan will consolidate final inspection areas and allow only qualified employees to enter the areas. The company will also introduce inspections by outside organizations.

On his responsibility for the inspection scandal, Saikawa said, "Leading the work to prevent similar irregularities and normalize our operations is my duties." Nissan has already reported to the transport ministry a recall of some 1.16 million vehicles from a total of 38 models that were manufactured in the three years and nine months through Sept. 19.



YOKOHAMA- Nissan Motor Corp. President and Chief Executive Officer Hiroto Saikawa bows at the start of a news conference at its global headquarters in Yokohama, Kanagawa Prefecture, south of Tokyo Japan, Thursday, 19 October 2017. Japanese Ministry of Land, Infrastructure and Transportation notified Nissan on 18 September that in the final vehicle inspection process, certain checks were carried out by proper registered technicians. Nissan announced on 19 October 2017 it decided to suspend vehicle production for the Japan market at all Nissan and Nissan Shatai plants in Japan. Jiji Press