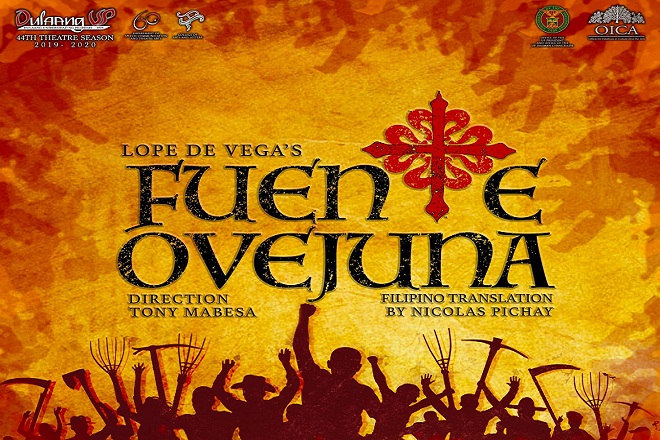 November 6, 2019


"Then since every one of us feels degraded and dishonored, can we not act together? We are all equally affronted and yet we hesitate to take a just revenge." - Esteban, mayor of Fuente Ovejuna

Fuente Ovejuna, written by renowned Spanish dramatist Lope De Vega and the last play directed by Founding Artistic Director Tony Mabesa, is Dulaang UP's second offering of its 44th Theatre Season. Once called the "Monster of Nature" during his day, De Vega was acknowledged as the founder of the comedia as well as the Spanish professional theatre. Fuente Ovejuna will be staged in English and in its Filipino translation by Nicolas Pichay.

Based on a historical incident that took place in the town of Fuente Ovejuna, Castile in 1476, the play centers on a feudal overlord, the cruel and sex-crazed Commendador Fernan Gomez De Guzman. The residents of Fuente Ovejuna, after years of oppressive rule, band together to end their misery, regardless of the repercussions. Underneath the exploitation of a dictator is the resistance of a village that has had enough. Their message echoes to this day, in every demonstration and uprising staged around the world and in our country. "Fuente Ovejuna did it," and so can we.

The cast features actors from stage, film, and television, alongside promising studentactors. Leo Rialp, Carlo Tarobal, Ross Pesigan, Hariette Damole, Chloe Jenna, Adriana Agcaoili, Ela Figura, Francis Mata, Christian Barinaga, Arvin Trinidad, George de Jesus, Greg de Leon, Ricci Chan, Jacques Borlaza, Jojo Cayabyab, Allan Palileo, Bong Antonio, Brian Arda, Fred Layno, and Tristan Bite will take the stage along with the Dulaang UP Ensemble.

Completing the creative team are seasoned designers composed of Faust Peneyra (Set Design), Shax Siasoco (Lights Design & Technical Direction), Jethro Joaquin (Sounds Design), Eric Pineda (Costume Design), Carlo Pagunaling (Hair and Make-up Design), Gaby Pascua (Property Master), Greg de Leon (Musical Director and Composer), Raymond Rolda (Co-composer), Chaz Caberos (Dramaturgy), Stephen Viñas (Choreography), Precious Conn Sy (Photography), and Steven Tansiongco (Video and Poster Design).

The play will run from November 8 to December 1, 2019 at the Wilfrido Ma. Guerrero Theater, Palma Hall, University of the Philippines Diliman, Quezon City.

We enjoin everyone to come and watch the final play directed by one of the last pillars of Philippine Theater. For inquiries, contact Nico Varona (0917 519 8879) or send an email to dupmarketing@gmail.com; you may also call the Dulaang UP Office (Tel.: 926- 1349 / 981- 8500 local 2449). See you at the theater!