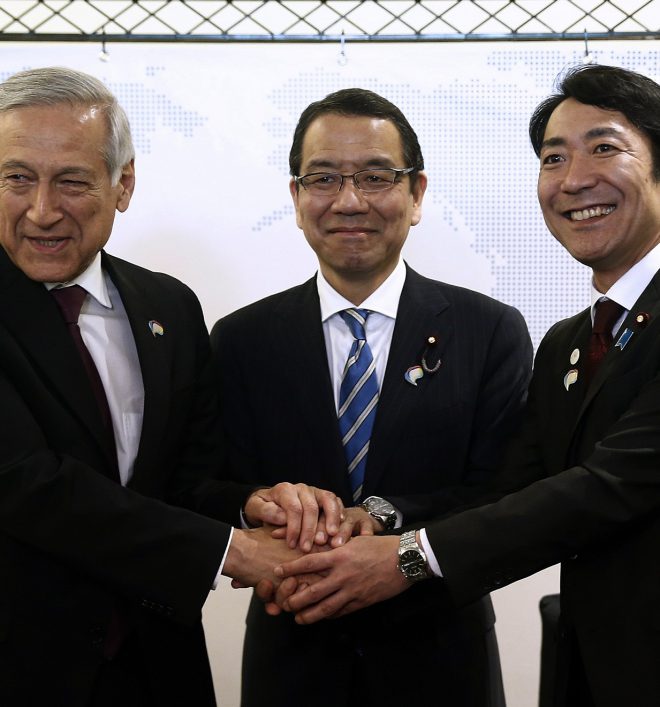 March 16, 2017
TOKYO- Japan and 10 other signatory countries of the Trans-Pacific Partnership free trade agreement, at a ministerial meeting
on Wednesday
, failed to set a specific vision for the pact without the United States but agreed to continue their discussions.
It was the first ministerial meeting of TPP signatory countries held after the United States' withdrawal from the multilateral free trade agreement.
In a joint statement adopted at the meeting in Vina del Mar, central Chile, the 11 countries reiterated their "firm commitment to collaborate in keeping markets open" and noted their "concern with protectionism in many parts of the world." Takao Ochi, Japanese state minister at the Cabinet Office, who participated in the meeting, said.
"The statement displayed the solidarity of the 11 countries." At the ministerial meeting, Ochi indicated Japan's willingness to explore every possibility, suggesting its readiness to accept the effectuation of an 11-nation TPP.
He voiced Japan's hope to continue the discussions while giving consideration to respective countries' varying positions, with the aim of figuring out the best solution.
The TPP was signed by 12 countries, including Japan, the United States, Chile and Mexico, in February last year. The 11 countries plan to hold talks of their senior officials to prepare for a meeting of trade ministers of Asia-Pacific Economic Cooperation forum member economies, to be held in Vietnam in May, where the fate of the TPP expected to be on the agenda. Heraldo Munoz, foreign minister of Chile, the host nation of the ministerial gathering
on Wednesday
, said the 11 countries were able to reconfirm the significance of the TPP and agreed to continue their talks.
Munoz stressed that the participants could have good discussions. Meanwhile, Mexican Secretary of Economy Ildefonso Guajardo said his country cannot wait forever, urging partner nations to accelerate their efforts to forge an agreement. (Jiji Press)