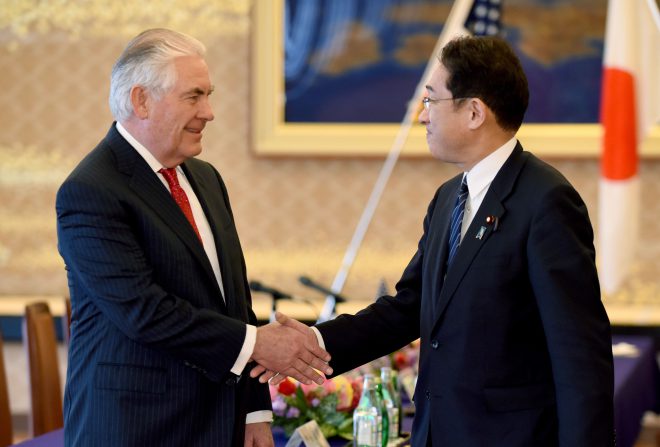 March 16, 2017
TOKYO- The United States has taken the wrong approach to North Korea in the past 20 years, visiting U.S. Secretary of State Rex Tillerson said Thursday.
Tillerson made the remark at a joint press conference with Japanese Foreign Minister Fumio Kishida.
Prior to that, the two officials held talks and confirmed that their countries will closely communicate to form a unified stance against North Korea.
Tillerson and Kishida also confirmed that the planned relocation of the U.S. Marine Corps' Futenma air base in Ginowan to the Henoko coastal area in Nago, both in Okinawa Prefecture, southernmost Japan, is the only solution for moving the base from its current location.
The two also agreed to speed up preparations to hold a so-called two-plus-two meeting of their foreign and defense ministers early.
Tillerson also told Kishida that the U.S. alliance with Japan is the cornerstone for the Asian-Pacific region. It is important to strengthen cooperation between Japan and the United States and among three countries also including South Korea to deal with North Korea's nuclear and missile programs, Tillerson said.
Kishida said he highly appreciates Tillerson's selection of Japan as the destination of his first trip to Asia since he took up his post.
The choice is taken to signal his stance of placing emphasis on the U.S. alliance with Japan, Kishida also said. (Jiji Press)