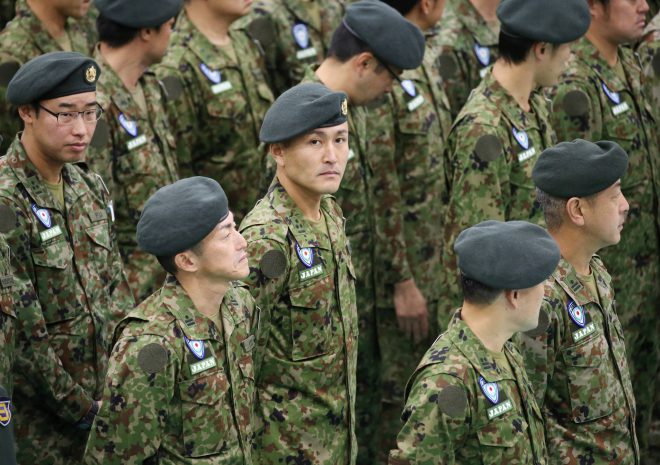 May 6, 2017
AOMORI- The second batch of Ground Self-Defense Force troops returned to Japan from South Sudan on Saturday, after taking part in a U.N. peacekeeping mission in the civil war-torn African country.
Japan is scheduled to withdraw all the remaining GSDF troops from South Sudan by the end of this month to complete the five-year peacekeeping mission.
Arriving at Aomori Airport in camouflage uniforms, the 115 members of the second group, part of the 11th unit sent to the newly born country, were greeted by senior GSDF officials. They later met with their colleagues and families at the GSDF base in the northeastern Japan city.
Keiju Kobayashi, 43-year-old major, said, "I'm glad to be back." "I want to use my experience for personnel development."
Based on Japan's national security laws that took effect in March last year, the 11th unit was assigned new duties, including protecting civilians such as U.N. officials and nongovernmental organization staff members under attack.
"I had no worry about the new duties," Kobayashi said.
Japan started dispatching GSDF engineering troops to South Sudan for the peacekeeping mission in January 2012. (Jiji Press)