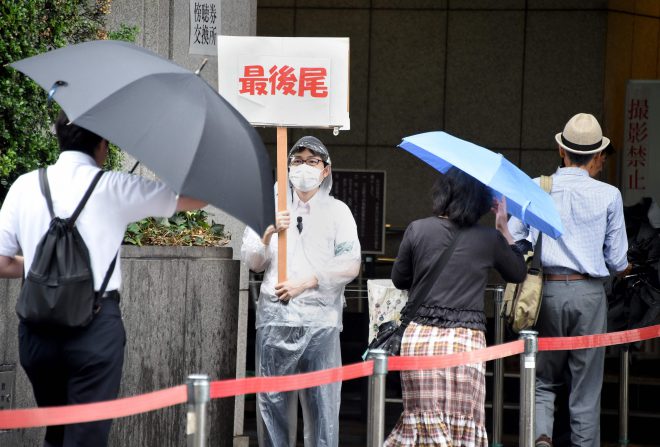 July 1, 2017
Tokyo- Three former executives of Tokyo Electric Power Company Holdings Inc.  pleaded not guilty at the start of their trial on Friday over Japan's worst-ever nuclear accident, which occurred at the company's tsunami-stricken Fukushima No. 1 power station in March 2011. In the first hearing at Tokyo District Court, then TEPCO Chairman Tsunehisa Katsumata, 77, said, "We want to apologize again for causing a serious accident that led to leaks of radioactive substances" from the nuclear power station in Fukushima Prefecture, northeastern Japan.
But he claimed that the accident was "unpredictable." Katsumata and the other two--then corporate fellow and former vice president Ichiro Takekuro, 71, and then vice president Sakae Muto, 67--denied the allegations against them of professional negligence resulting in deaths and injuries related to the nuclear crisis. Takekuro and Muto have served as top officials for its nuclear energy operations.
In the accident, the No. 1, No. 2 and No. 3 reactors at the plant suffered core meltdowns due to damage from the catastrophic tsunami caused by the 9.0-magnitude earthquake that struck off the Pacific coast of the Tohoku northeastern region on March 11, 2011. The accident was rated worst Level 7 on the International Nuclear and Radiological Event Scale, the same grade as that for the April 1986 Chernobyl nuclear crisis in the former Soviet Union.
The three former executives were indicted in February 2016 by lawyers who were appointed by the district court to act as prosecutors after a prosecution inquest
panel comprising ordinary citizens overrode twice public prosecutors' decisions not to charge them.
The biggest issue in the trial is whether the huge tsunami was predictable. The trial's outcome is expected to have implications for a series of damages lawsuits filed over the nuclear crisis and for the nation's policy on nuclear plants.
According to the indictment, the defendants had left the Fukushima No. 1 power station in operation although they were able to foresee the risk of tsunami hitting the plant. They are accused of being responsible for the accident, which led to the deaths of 44 inpatients evacuated from a nearby hospital and injuries of some 10 workers at the plant.
In 
Friday's
 court hearing, the lawyers serving as prosecutors said TEPCO estimated in 2008 that a tsunami as high as 15.7 meters could engulf the nuclear plant, adding that Takekuro and Muto had been informed of the estimate.
At a TEPCO meeting in February 2009, Katsumata heard the late Masao Yoshida, who was then chief of the firm's nuclear business department and was manager of the plant at the time of the accident, quote someone as saying that a 14-meter tsunami could strike the plant, the lawyers claimed.
They argued that the nuclear accident would not have happened if preventive measures such as the installation of coastal levees had been taken.
In a civil lawsuit, Maebashi District Court in Gunma Prefecture, eastern Japan, ordered TEPCO and the Japanese government in March this year to pay a total of 38.55 million yen in damages to plaintiffs--Fukushima residents who evacuated to Gunma following the nuclear accident--noting that the gigantic tsunami was predictable. (Jiji Press)