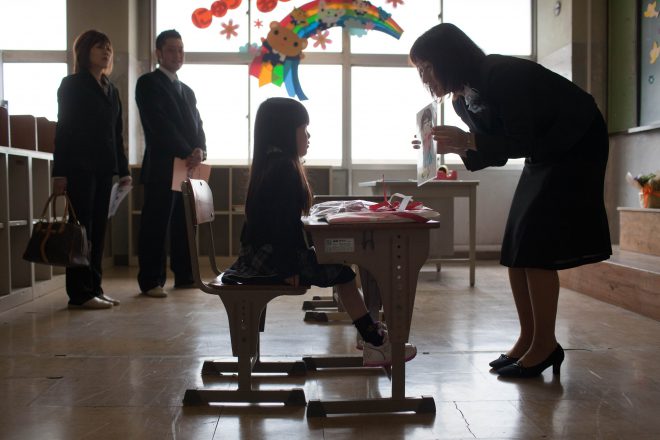 April 28, 2017
Tokyo- About 60 percent of teachers at public junior high schools in Japan worked at least 60 hours per week in fiscal 2016, beyond the dividing line used by the state for determining death from overwork, an education ministry survey revealed Friday.
Compared with the previous survey conducted for fiscal 2006, work hours went up for all job titles at public elementary and junior high schools, including principals, reflecting longer class hours on weekdays and a doubling of club activity hours at junior high schools on weekends.
"The situation where school activities are supported by teachers' long working hours has reached its limit," an education ministry official said.
The ministry plans to seek advice from the Central Council for Education on measures to remedy the severe situation facing school teachers.
The ministry conducted the latest survey on 400 elementary schools and as many junior high schools to collect data on seven-day work hours in October-November 2016 by job title and by type of work. It received responses from 8,951 teachers at 397 elementary schools and 10,687 teachers at 399 junior high schools.
According to a preliminary report on the survey, daily work time on weekdays averaged 11 hours and 15 minutes for elementary school teachers, up 43 minutes from the previous survey, and 11 hours and 32 minutes for junior high school teachers, up 32 minutes.
The survey also found that 33.5 percent of elementary school teachers and 57.6 pct of junior high school teachers worked 60 hours or more per week, including at least 20 overtime hours.
It means that these teachers worked beyond the 80-hour monthly overtime threshold used by the labor ministry for its decision on whether to approve applications for compensation for those who die from overwork.
Daily class time increased by 27 minutes at elementary schools and by 15 minutes at junior high schools. Teachers' preparation time for classes also went up, by eight minutes at elementary schools and 15 minutes at junior high schools on a daily basis.
The longer hours apparently reflected an increase in the number of classes after the government ended its "yutori" pressure-free education policy under current curriculum guidelines that were introduced after the previous survey 10 years ago.
At junior high schools, the average time teachers spent on students' club and other extracurricular activities per weekend came to two hours and 10 minutes, almost double the one hour and six minutes in the previous survey. (Jiji Press)