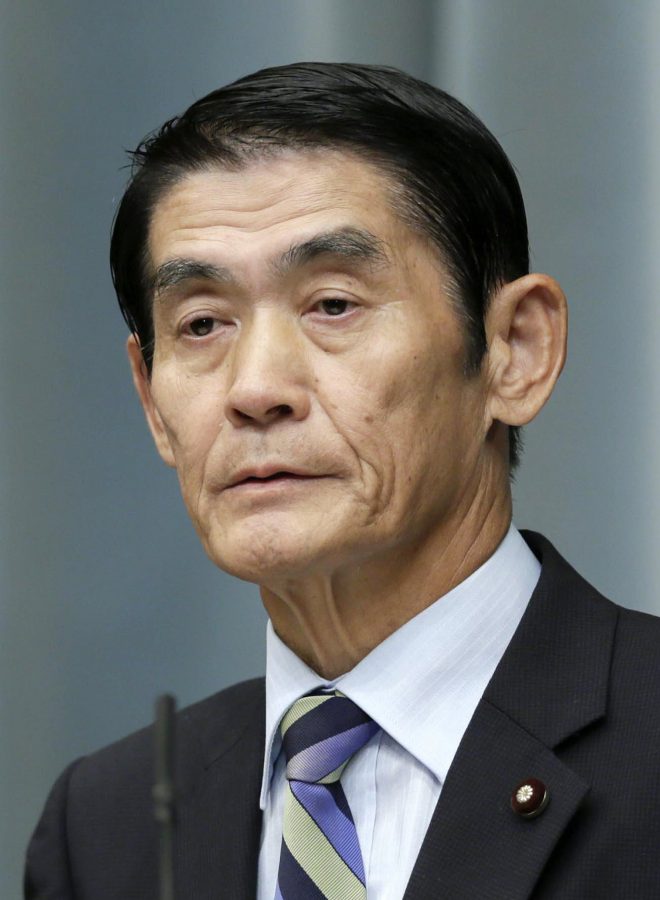 April 26, 2017
Tokyo- Japanese Prime Minister Shinzo Abe accepted a letter of resignation from postdisaster reconstruction minister Masahiro Imamura Wednesday morning, effectively sacking him for his gaffe over the March 2011 earthquake and tsunami.   Abe named former State Environment Minister Masayoshi Yoshino, 68, to replace Imamura, who said
on Tuesday
that "it was good" that the disaster happened in the Tohoku northeastern Japan region, not near the Tokyo metropolitan area.
Yoshino, a House of Representatives lawmaker elected from a Fukushima Prefecture constituency in Tohoku, took office after his attestation ceremony at the Imperial Palace.
Abe said he bears responsibility for naming Imamura as reconstruction minister.
"By realizing the administration's policy promises and producing results, I want to regain public confidence in my government," Abe told reporters at the prime minister's office.
Abe aims to highlight his efforts to promote the reconstruction of the hardest-hit region by appointing the lawmaker from Fukushima to the post of reconstruction minister, sources familiar with the situation said.
Through the swift replacement, Abe also hopes to minimize the impact of the gaffe on discussions at the Diet, Japan's parliament, and the government's business, the sources also said.
In the morning, voting and debate sessions at both Diet chambers were canceled. Aiming to attack Abe, the opposition camp agreed to request intensive Diet debates on the scandal and Imamura's resignation as a lawmaker.
After his meeting with Abe, Imamura told reporters that he is sincerely sorry for hurting the feelings of Tohoku people and causing great trouble to them. But he denied that he will step down as a lawmaker.
Yoshino separately told reporters that he keenly feels his heavy responsibilities as reconstruction minister.
In the speech at a meeting of a faction of the ruling Liberal Democratic Party
on Tuesday
, Imamura said that if the disaster had occurred near the Tokyo metropolitan area, it would have caused tremendous damage.
Only weeks ago, Imamura came under fire over his comments about the end of financial aid for housing for people who voluntarily evacuated due to the nuclear accident at Tokyo Electric Power Company Holdings Inc.'s Fukushima No. 1 nuclear power plant. He said that such evacuees should bear responsibility for their decisions to move away.
Yoshino, a native of the Fukushima Prefecture city of Iwaki, was first elected to the Lower House in 2000 after serving as a prefectural assembly member. His family business is lumbering. (Jiji Press)