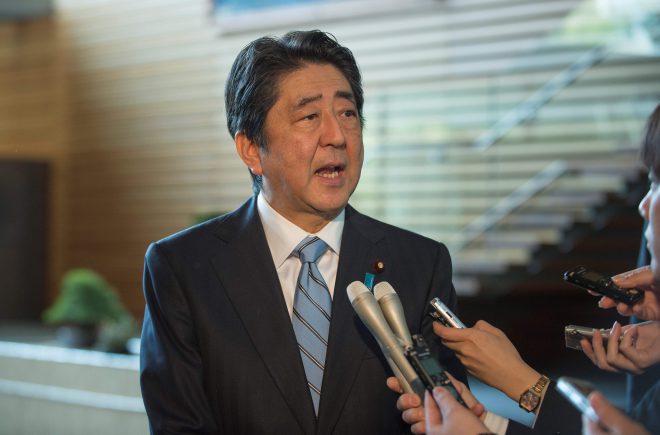 April 5, 2017
TOKYO- 
Japanese Prime Minister Shinzo Abe strongly condemned North Korea's firing of a ballistic missile that fell into the Sea of Japan
on Wednesday
.
The missile launch is "a serious provocative act and utterly unacceptable," Abe told reporters at the prime minister's office in Tokyo.
The Japanese government made a strong protest to North Korea via its embassy in Beijing.
Further provocations from North Korea are possible, Abe said, adding that Japan is ready to continue close cooperation with the United States and South Korea to address the situation.
Abe instructed officials to collect and analyze information thoroughly for timely and proper disclosure, to ensure the safety of aircraft and ships, and to prepare for contingencies.
The government held a meeting of its National Security Council to discuss a response to the missile firing.
Speaking at a press conference, Chief Cabinet Secretary Yoshihide Suga said the North Korean missile is estimated to have fallen outside Japan's exclusive economic zone.
There have been no reports of damage to ships or aircraft, Suga said.
He added that an investigation is continuing into the possibility that the missile launch failed.
Foreign Minister Fumio Kishida told reporters that Japan will ask the UN Security Council to send out a strong message to Pyongyang and call on UN member countries to implement sanctions on North Korea strictly.
Defense Minister Tomomi Inada ordered the Self-Defense Forces to continue information gathering, and warning and surveillance activities. (Jiji Press)