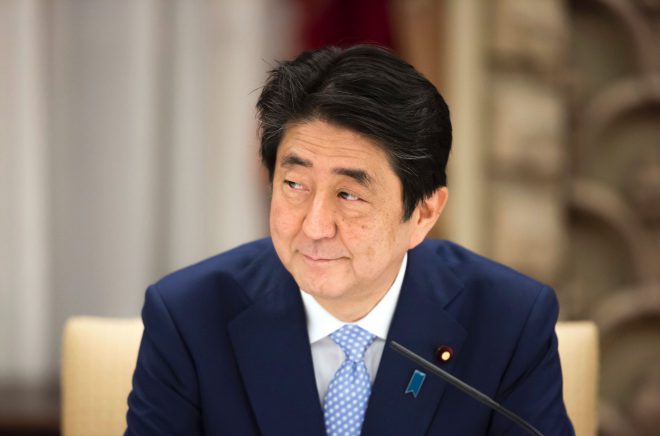 May 3, 2017
Tokyo- Japanese Prime Minister Shinzo Abe looks increasingly determined to realize revisions to the Japan's post-World War II constitution while he is in office.Abe has no political rival in his own ruling Liberal Democratic Party who could threaten his standing as LDP president and thus jeopardize the prospects of a long-term government under him. This situation enables Abe to take his time to tackle the issue of constitutional amendments patiently.
"Time is ripe, at last. It's time to present to the public what an ideal constitution should be like," Abe declared
on Monday
at a meeting in Tokyo of lawmakers in favor of amendments.
"We'll definitely make a historic step forward in this milestone year," Abe said, referring to the 70th anniversary
on Wednesday
of the constitution's enforcement.
Abe, who returned to the post of LDP president in 2012, is now serving his second consecutive three-year term, which is set to expire in autumn 2018.
But, thanks to revisions to party rules in March, Abe is given an opportunity to run for LDP presidency for a third consecutive term.
If he wins the party presidency in the leadership election in autumn 2018, Abe would be able to stay in office until autumn 2021.
At the Diet, Japan's parliament, little progress has been made in deciding on what changes will be made to the US-drafted postwar constitution as the ruling bloc and the opposition camp stand against each other over a wide variety of themes.
As there is no prospect for the Diet proposing constitutional revisions, it is widely believed a national referendum on proposed revisions, which is supposed to be held 60 to 180 days after the proposals are made, is unlikely to take place by the end of 2018.
Aware of this situation, Abe told close aides that there is no need to hurry, despite his aggressive remarks about rewriting the constitution, which has never been amended.
Only a long-serving government can tackle the issue, he was quoted as saying.
Abe is seen as likely to dissolve the House of Representatives for a snap election before the term of the members of the lower chamber expires in December 2018. To avoid any risks that could reduce the LDP's strength in the Lower House and decrease opportunities for constitutional revisions, however, Abe is expected to prioritize parliamentary debates for the time being over calling a snap election.
But a long-running government does not necessarily mean that constitutional revisions will be achieved.
After the next Lower House election to be held by December 208 and the triennial election for the House of Councillors, the upper chamber, which will be held in 2019, the Abe government might not be able to maintain the two-thirds majority in both Diet chambers required for putting an amendment proposal to a national referendum.
Forming a consensus with the opposition side on revising the basic law does not appear realistic now, with the main opposition Democratic Party and others taking a negative stance toward Abe's call for constitutional changes, which could be taken by some as pressure.
There is also a possibility that the government may not be able to stay disciplined, as shown by a series of gaffes by cabinet members, and could therefore have little leeway to tackle constitutional changes.
"The prime minister gave up his post once, but he was given a second chance," said an aide who has been supporting Abe since he first served as prime minister in 2006-2007. "That makes him even more eager to realize constitutional amendments, no matter what."
It is uncertain, however, if things will go as Abe wishes. (Jiji Press)