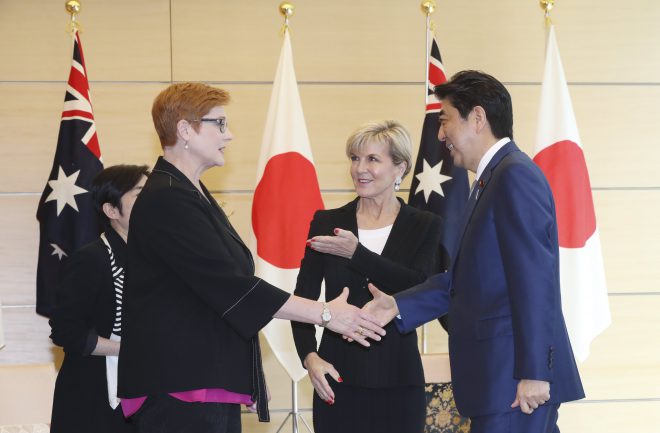 April 21, 2017
Tokyo- 
Japanese Prime Minister Shinzo Abe
on Thursday
expressed his eagerness to strengthen his country's defense ties with Australia, apparently keeping China's maritime expansion in mind.
"We hope to realize deeper defense cooperation" with Australia, he said at a meeting with visiting Australian Foreign Minister Julie Bishop and Defense Minister Marise Payne at the prime minister's office.
Bishop responded by saying that Japan and Australia are close friends in the Pacific that share views on various global challenges.
The meeting was held ahead of a "two-plus-two" session between the Australian ministers and their Japanese counterparts--Foreign Minister Fumio Kishida and Defense Minister Tomomi Inada--in Tokyo later in the day.
The two-plus-two session has been arranged in a very timely manner, given the current unstable regional security situation, Bishop said, implicitly referring to North Korea. (Jiji Press)