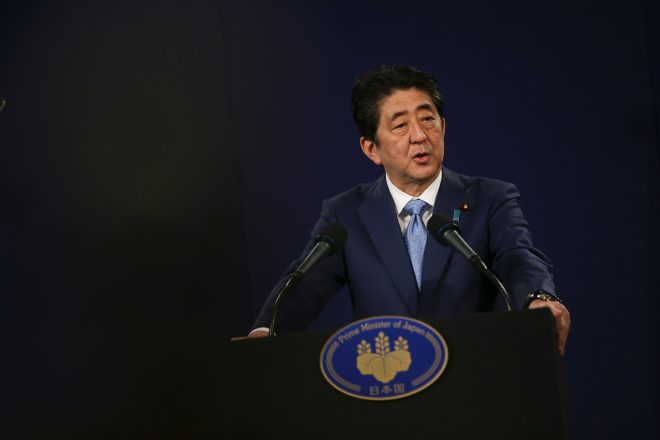 April 30, 2017
LONDON- Japanese Prime Minister Shinzo Abe expressed his hope on Saturday China will play a key role to persuade North Korea to abandon its nuclear and missile development. "In order to realize the denuclearization (of North Korea), we hope that China will firmly play a constructive role, including the implementation of UN Security Council resolutions," Abe told a press conference in London, wrapping up his visits to Russia and Britain, both permanent members of the Security Council.
"We are closely watching China's responses," Abe said, urging the country, which has influence over North Korea, to press strongly for self-restraint by the reclusive state.
Abe also said, "Constructive involvement by Russia is essential to solving an international issue."
He condemned North Korea for launching a ballistic missile
on Saturday
in defiance of strong international calls for restraint. "It poses a serious threat to our country and can never be tolerated. I strongly denounce it," he said.
"We will do all we can to make sure the safety of the people, while working closely with the United States to remain on high alert," the prime minister continued.
Regarding Russian President Vladimir Putin's recent reference to the restart of the six-party talks on North Korea's nuclear development program, Abe said, "We are not ready to resume the talks immediately as North Korea has yet to show a sincere will or take action for denuclearization." Putin mentioned the six-party talks at a meeting with Abe in Moscow
on Thursday
.
With the remarks, Abe suggested that in the current situation, pressure on North Korea should be strengthened, including by the full implementation of the UN Security Council resolutions calling for additional and strengthened sanctions against it.
Speaking on the longstanding bilateral dispute over four Russian-held northwestern Pacific islands, which Japan calls the Northern Territories, Abe said, "We cannot reach the goal of concluding a peace treaty without mutual trust between Japanese and Russian nationals." (Jiji Press)