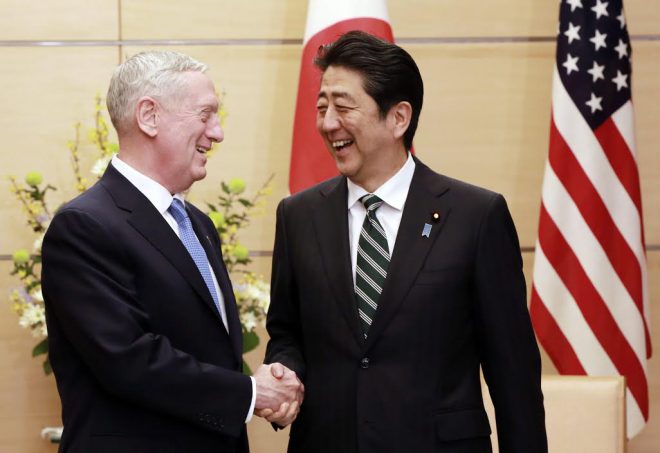 February 3, 2017
TOKYO- US President Donald Trump's defense secretary Jim Mattis reiterated his country's mutual defense commitment to Japan in a meeting with Japanese Prime Minister Shinzo Abe in Tokyo on Friday.
Remarks made recently by US President Donald Trump had some Japanese officials on edge regarding the future of the special security alliance and the costs shouldered by Japan.
Mattis stressed that his country's resolve to adhere to its security obligations remained unwavering.
"I want there to be no misunderstanding during the transition in Washington that we stand firmly, one-hundred percent, shoulder-to-shoulder with you and the Japanese people," Mattis said at the beginning of his meeting with the Japanese leader.
Mattis also said that a clause written in Japan's Constitution was as relevant today, as it was when it was first written.
"I want to make certain that Article 5 of our mutual defense treaty is understood to be as real to us today as it was a year ago, five years ago—and as it will be a year, and 10 years, from now," Mattis said.
The clause in question calls for the United States to defend territories that are under the administrative control of Japan.
The US defense chief also said that the treaty obliges the US to protect Japan if it came under an armed attack.
Abe made it clear to Mattis that he hopes to show that the Japan-US alliance is as strong as ever even under a new administration.
Certain remarks by Trump about Japanese currency valuations and the cost the US incurs in posting its troops to Japan, had perplexed the government here.
Abe believes his upcoming summit meeting with Trump will be an opportunity for him to put forward Japan's opinions and better understand Trump's "America First" policy agendas.
In trade and economic terms, Abe has already said he will seek to inform Trump of how Japanese businesses can be of benefit to the US in terms of increasing competition and creating new jobs in North American markets.
The Japanese leader has also intimated that he will speak to Trump if deemed necessary following his accusations that Japan was manipulating its currency to the disadvantage of the United States. (Jiji Press)