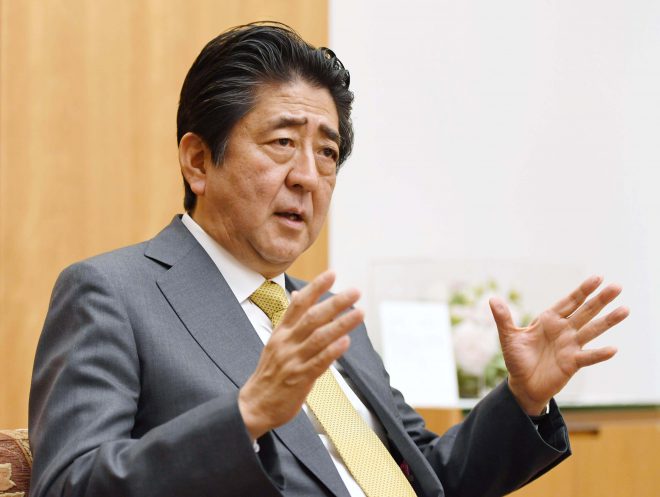 January 10, 2017
TOKYO- Prime Minister Shinzo Abe met Tuesday with Japan's ambassador to South Korea after the envoy's recall home in protest at the installation of a statue in Busan dedicated to "comfort women" who were forced to work in Japan's wartime brothels.
"I can't go into the details, but I made thorough reports to both the prime minister and the chief Cabinet secretary," Ambassador Yasumasa Nagamine told reporters after the meeting at the prime minister's office, which was joined by Yasuhiro Morimoto, Japan's consul general in Busan.
Chief Cabinet Secretary Yoshihide Suga told a press conference that Tokyo "hasn't decided yet" when the diplomats will return to South Korea.
The government decided last week to temporarily withdraw the diplomats and halt high-level economic talks with South Korea in response to the new statue of a girl installed in the southern port city on Dec. 30 despite a December 2015 bilateral agreement aimed at fully and finally settling the comfort women issue.
Under the agreement, the Japanese government disbursed 1 billion yen ($8.6 million) last year to a South Korean fund to help the women and their families, while South Korea said it "acknowledges" Japan's concerns about the earlier erected statue in Seoul and pledged to "solve" the issue in an appropriate manner.
"It's extremely important that the governments of both countries faithfully implement the agreement, and we will persevere in appealing (to South Korea) to do so at every possible opportunity," Suga, the top Japanese government spokesman, said.
The spat comes amid political turmoil in South Korea following parliament's impeachment last month of President Park Geun Hye over a political scandal. Her powers have been transferred to acting president and Prime Minister Hwang Kyo Ahn.
Japan has stressed the importance of unity with South Korea, both bilaterally and multilaterally with the United States, in responding to the growing nuclear and ballistic missile threat from North Korea.
"We are aware that Japan and South Korea share extremely important values, and Japan, the United States and South Korea need to work in coordination, especially now given the severity of issues around North Korea," Suga said. (Kyodo News)