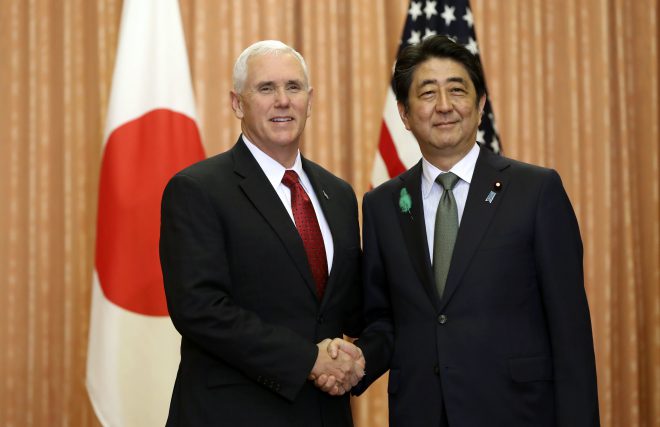 April 18, 2017
Tokyo- 
Japanese Prime Minister Shinzo Abe and visiting US Vice President Mike Pence reaffirmed the significance of the Japan-US alliance
on Tuesday
, amid growing tensions over North Korea's nuclear and missile programs.  "It's necessary to put pressure on North Korea so that it will accept a dialogue in good faith," Abe said at the beginning of a luncheon meeting with Pence at his office.
Pence said he understands the severe situation in which Japan remains under the continued threat of provocations by North Korea, noting that the United States fully stand by Japan.
Abe said Japan welcomes US President Donald Trump's stance of keeping all options on the table, including military action, as his administration is reviewing the US policy on North Korea.
"I want to make clear that the strong bond of the Japan-US alliance is unshakeable," Abe also said. Pence replied that the bilateral alliance is a cornerstone in Northeast Asia.
Pence is visiting Japan for the first time since the inauguration of the Trump administration in January.
The Abe-Pence meeting was also attended by Japanese Foreign Minister Fumio Kishida and Economy, Trade and Industry Minister Hiroshige Seko, as well as US Secretary of Commerce Wilbur Ross.
 Earlier, Ross said that his country is eager to conclude a bilateral trade agreement with Japan.
"We are certainly eager to increase our trade relationships with Japan and to do so in the form of an agreement," Ross told reporters following a meeting with Seko.
"We had quite specific, candid and practical discussions," Seko separately told reporters after the meeting. (Jiji Press)