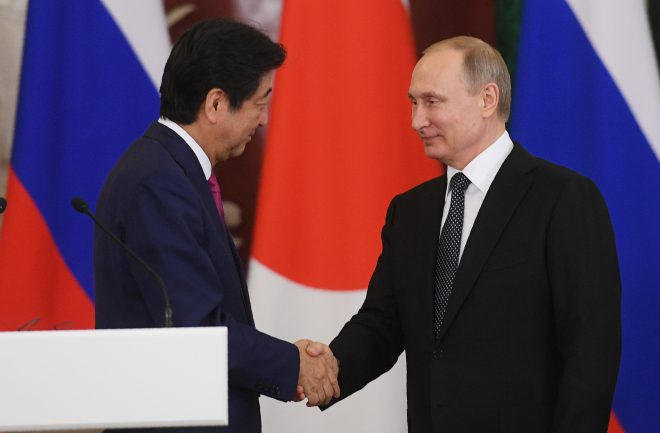 April 28, 2017
Moscow- Japanese Prime Minister Shinzo Abe and Russian President Vladimir Putin agreed on Thursday that the two countries will send a joint public-private survey mission to northwestern Pacific islands at the center of the two countries' territorial row as early as in May as part of efforts to materialize joint economic activities there. At their 17th summit, held about three hours and 10 minutes at the Kremlin in Moscow, Abe and Putin also confirmed that aircraft will be used for travel to the islands by former residents for visiting the graves of their ancestors.
Aircraft has never been used for such travel. The use of aircraft is aimed at easing the burden of former islanders, many of whom are aging.
In Japan, the islands are known as Etorofu, the Habomais, Kunashiri and Shikotan, and collectively as the Northern Territories.
The first travel by former residents using aircraft, to Etorofu and Kunashiri, will take place in June in a special grave visit program.
The islands, located off Japan's northernmost prefecture of Hokkaido, were seized by the former Soviet Union from Japan at the end of World War II and are claimed by Japan. The dispute has prevented Tokyo and Moscow from concluding a peace treaty to formally end their wartime hostilities.
At a joint press conference after the meeting, Abe said that fish and sea urchin farming and ecotourism capitalizing on the rich natural environment on the four islands, among other things, will be studied as areas to be covered by the planned joint economic activities.
The program is expected to help improve the living standards and convenience of Russians residing on the islands and create a lot of new possibilities for Japanese people who are engaging in economic activities there, Abe said, adding that he wants to work with Putin to create a hopeful future. (Jiji Press)