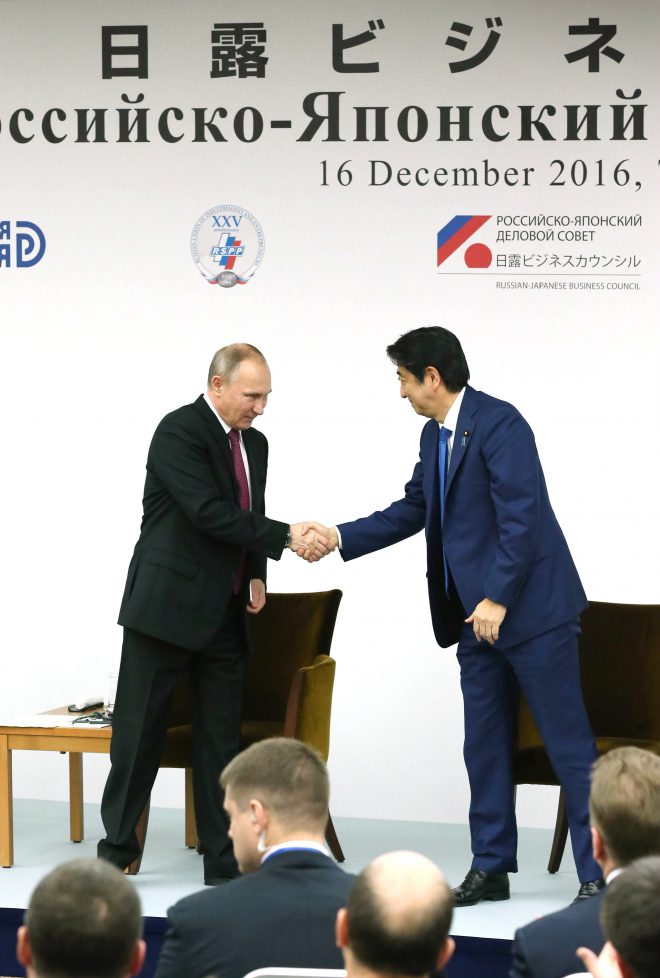 April 1, 2017
TOKYO- Japan is arranging a bilateral summit with Russia on or around
April 27
, with a view to accelerating talks on proposed joint economic activities on four Russian-held islands claimed by Japan, government sources have said.
Prime Minister Shinzo Abe is expected to leave Japan as early as
April 26
for a summit with Russian President Vladimir Putin in Moscow or St. Petersburg, the sources said.
Abe may also travel to Britain for talks with his British counterpart, Theresa May, they also said.
The joint economic initiative on the islands, called the Northern Territories in Japan, is viewed as a key step toward the conclusion of a Japan-Russia peace treaty to formally end the two countries' World War II hostilities.
Abe and Putin agreed to launch talks on the joint activities at their meeting in Japan last December. Based on the agreement, the two governments held vice minister-level discussions in Tokyo on March 18.
The upcoming summit is also expected to cover the proposed expansion of a scheme for visits to the four islands by former residents there.
At the possible meeting with the British leader, Abe is likely to request special consideration for Japanese companies that have bases in Britain during the country's process to exit the European Union. (Jiji Press)