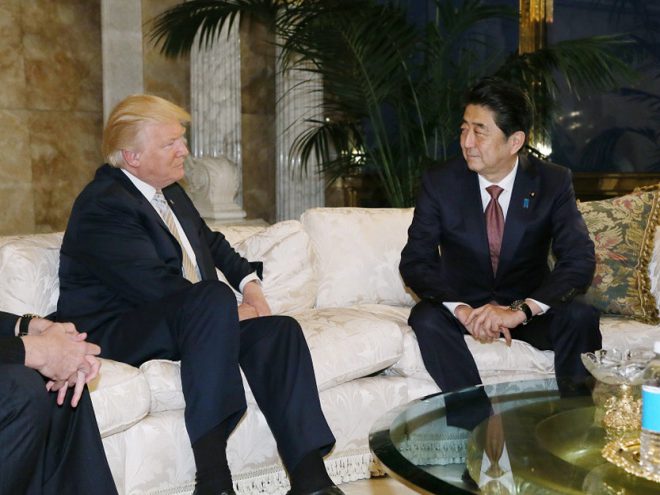 February 9, 2017
TOKYO- Japanese Prime Minister Shinzo Abe plans to highlight measures to help create more jobs and increase Japanese investment in the United States during his summit with US President Donald Trump in Washingtonon Friday, it was learned Wednesday.
If the Trump side asks Japan for the launch of negotiations on concluding a bilateral trade agreement, Abe plans to tell the new US leader that Japan wants to continue talks between relevant agencies of the two countries, according to his draft policy on the meeting.
At the bilateral summit, the first since Trump took office on Jan. 20, Abe is set to unveil a comprehensive package designed to contribute to US economic growth, hoping that Trump will not focus on specific sticky areas, such as automobile trade, informed sources said.
The package will likely feature Japan's plans to expand imports of liquefied natural gas from the United States and make public-private investment in US high-speed train projects, with the aim of helping create some 700,000 jobs in the country.
But Trump may make tough demands, following
Tuesday's
US trade data showing that Japan was the second-largest contributor to the US goods trade deficit in 2016, up from third place in 2015, the sources said.
Under his "America First" policy, Trump has vowed to eliminate the US trade deficit and increase jobs. In response to Trump's recent criticism of Japan for unfair automobile trade, Abe plans to explain that Japan no longer sets tariffs or nontariff trade barriers for US vehicles, the sources said.
Abe also plans to seek Trump's understanding by pointing out that Japanese automakers have created some 1.5 million jobs in the United States.
Meanwhile, the prime minister is likely to avoid in-depth talks on the Trans-Pacific Partnership, after the Trump administration recently ordered the United States' withdrawal from the multilateral free trade pact, the sources said. The TPP issue may irritate Trump, a Japanese government official said.
During his visit to Japan last week, US Defense Secretary James Mattis confirmed at his meetings with Abe and Japanese Defense Minister Tomomi Inada that Article 5 of the US-Japan security treaty, which stipulates US obligations to defend territories under Japan's administration, covers the Japanese-controlled Senkaku Islands in the East China Sea, claimed by China.
Mattis also hailed Tokyo's host-nation financial support for US forces in Japan. Still, some Japanese government officials are concerned that Trump may link security and trade issues.
Following the summit, Abe and Trump will hold a joint press conference and then continue talks over lunch
on Friday
.
Later in the day, they will fly together to Palm Beach in Florida aboard the Air Force One presidential jet and visit Trump's vacation home there for a dinner, also to be attended by their wives.
On Saturday
, Trump and Abe plan to play golf and have dinner together. According to the Japanese Foreign Ministry, it will be the first time for the leaders of the two countries to shoot a round of golf since 1957, when then Japanese Prime Minister Nobusuke Kishi and then US President Dwight Eisenhower played golf together.
It is unusual for a Japanese prime minister and a US president to hold talks for two consecutive days. Abe will return home
on Monday
. (Jiji Press)