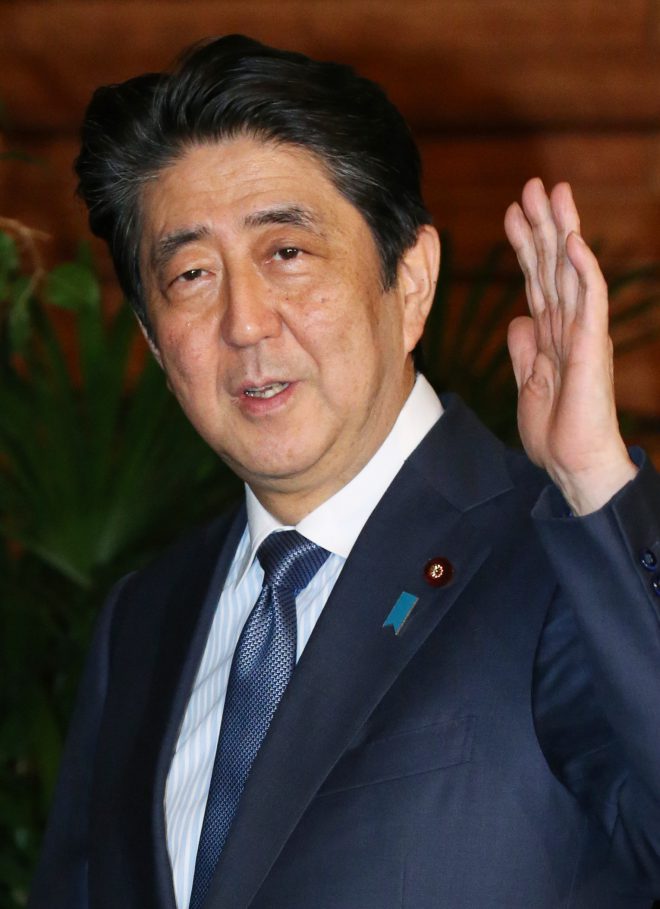 April 20, 2017
Tokyo- Japanese Prime Minister Shinzo Abe plans to shorten his upcoming overseas tour, due to heightening tensions over North Korea, government officials said Friday.  Abe will visit Russia and Britain as planned, but will cancel trips to Norway, Denmark, Finland and Sweden, the officials said.
He will leave for the tour
on Thursday
and return home on
April 30
, the officials said.
The government had been arranging Abe's visits to the four Nordic countries. But the prime minister decided to call off the trips because of the possibility of North Korea launching a missile or conducting a nuclear test, according to the officials.
North Korea fired a ballistic missile last Sunday although the launch is believed to have failed. The reclusive country last conducted a nuclear test in September 2016.
The Japanese leader will meet British Prime Minister Theresa May on
April 29
to minimize the impact of Britain's exit from the European Union on the business environment for Japanese companies operating in her country, the officials said.
Abe and May are also seen confirming cooperation in the lead-up to the Group of Seven summit in Italy in May.
Meanwhile, Senior diplomats from Japan, the United States and South Korea will meet in Tokyo
on Tuesday
to discuss tensions involving North Korea, Japanese Foreign Minister Fumio Kishida said Friday.
The diplomats are expected to reaffirm the three countries' continued cooperation in responding to Pyongyang's nuclear and missile programs, informed sources said.
They also are likely to confirm their policy of seeking greater help from China, an ally of North Korea, in addressing the tensions, the sources said.
The diplomats will coordinate three-way policy cooperation on North Korea, Japanese Chief Cabinet Secretary Yoshihide Suga told a news conference.
The meeting will be joined by Kenji Kanasugi, director-general of the Japanese Foreign Ministry's Asian and Oceanian Affairs Bureau, Joseph Yun, US special representative for North Korea policy, and Kim Hong-kyun, South Korea's special representative for Korean Peninsula peace and security affairs.
The three are chief negotiators from Japan, the United States and South Korea for six-party talks on North Korea's nuclear program. They last met in Washington in February.
Suga said the situation does not allow the stalled six-party talks to be held anytime soon. The talks bring together China and Russia in addition to Japan, the United States and the two Koreas. (Jiji Press)