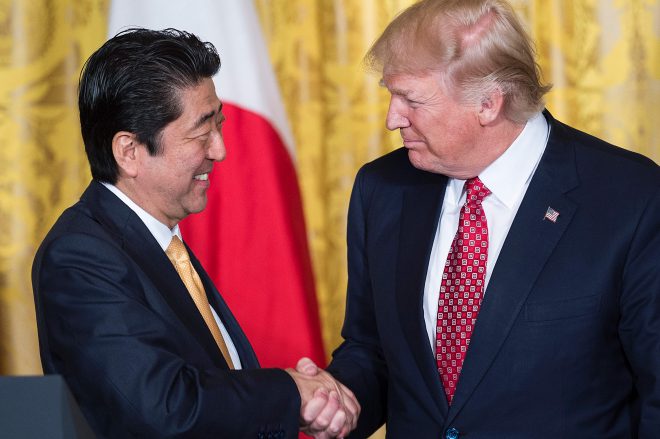 April 24, 2017
Tokyo- 
Japanese Prime Minister Shinzo Abe and US President Donald Trump, in phone talks
Monday
morning, agreed to strongly demand North Korea exercise self-restraint amid increasing tensions over its nuclear and missile development."Japan will continue to cooperate closely with the United States and stay on high alert," Abe told reporters after the talks with Trump.
"Japan will respond resolutely" when necessary, Abe added.
In the phone talks, which lasted about 30 minutes, Abe told Trump that he highly appreciates the president for showing North Korea, both through words and actions, that all options are on the table.
North Korea is widely feared to be planning further provocations, such as ballistic missile launches and a sixth nuclear test, to coincide the 85th anniversary of the founding of its Korean People's Army
on Tuesday
.
Abe and Trump also agreed in the phone talks to urge China, which has a powerful influence over North Korea, to play a greater role in improving the situation.
The Japanese Maritime Self-Defense Force and the USS Carl Vinson aircraft carrier-led strike group have started a joint exercise in the Philippine Sea, to send a deterrent signal against further provocations by North Korea.
It was the fourth time for Abe to hold phone talks with Trump since his US visit in February.
Since the start of this month, the two leaders have talked on the phone three times. The increased frequency of their discussions reflects the growing tensions on the Korean Peninsula. (Jiji Press)