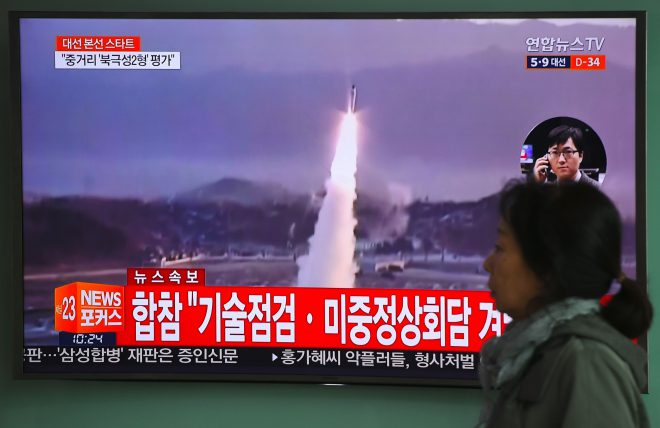 April 6, 2017
TOKYO- 
In the wake of a fresh ballistic missile launch by North Korea
on Wednesday
, Japanese Prime Minister Shinzo Abe and US President Donald Trump agreed on Thursday that China has not done enough to stop Pyongyang's nuclear and missile development. During their 35-minute talks on the phone in the morning Japan time, Trump expressed his willingness to urge China to play a more active role in addressing the North Korean issue at a two-day summit with Chinese President Xi Jinping in Florida from Thursday, according to officials familiar with the talks between the Japanese and US leaders.
Referring to the upcoming Trump-Xi summit, Abe said Japan is closely watching China's response on the North Korean issue.
"We will strengthen our response on the North Korean issue while continuing to work with the United States and the international community," Abe told reporters following the telephone talks.
The White House issued a statement saying that the president "made clear that the United States will continue to strengthen its ability to deter and defend itself and its allies with the full range of its military capabilities."
The two leaders "agreed to stay in close communication to enhance cooperation on North Korea and other regional issues of mutual interest," according to the statement.
Based on a UN Security Council resolution last November to limit North Korean coal exports, China said in February that it will suspend coal imports from North Korea until the end of this year.
However, the Japanese and US leaders agreed that the suspension of coal imports is not enough for the key country for resolving the North Korean issue.
Abe and Trump shared the view that
Wednesday's
ballistic missile firing by North Korea was a dangerous provocation that posed a grave threat to the security of Japan.
They confirmed that Japan, the United States and South Korea will continue to cooperate in dealing with the reclusive country while Japan and the United States will work to strengthen the deterrence power and response capability of the bilateral security alliance.
Regarding the Trump administration's ongoing review of the US policy on North Korea, the president told Abe that all options are on the table, while stressing that the United States is 100 percent behind Japan.
The Japanese leader replied that his government highly appreciates the US position.
The telephone talks were held at the request of the Japanese side. The move on the eve of the Trump-Xi summit was a reminiscent of Trump-Xi telephone talks ahead of the first Abe-Trump summit, in February. (Jiji Press)