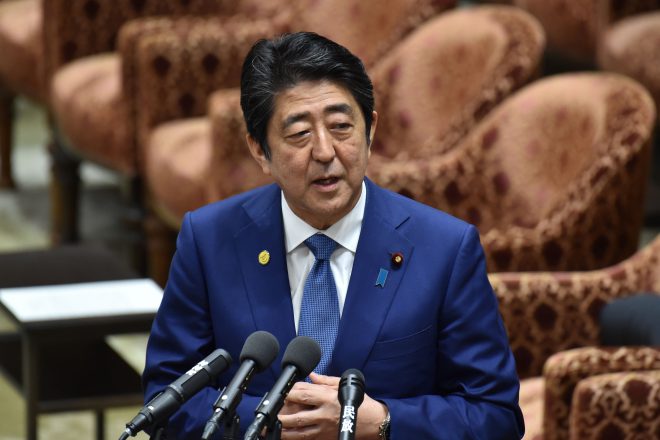 May 9, 2017
Tokyo- Japan's Prime Minister Shinzo Abe expressed his intention Tuesday to put priority on revising Article 9 of the country's postwar Constitution to clarify the legal status of the Self-Defense Forces.
"What we have to do now is about the SDF, which, unfortunately, many experts on the supreme law say is unconstitutional," Abe said at a meeting of the Budget Committee of the House of Councillors, the upper chamber of the Diet.
In answering a question by main opposition Democratic Party leader Renho, Abe made the first parliamentary remark emphasizing the need to revise the pacifist constitutional clause since Wednesday, when he proposed in a video message that Article 9 newly recognize the existence of the SDF while maintaining its two war-renouncing paragraphs.
The video was shown at a meeting of a group of advocators for changing the Constitution on the day to mark the 70th anniversary of the top law.
"I'm determined to accelerate the discussions inside the Liberal Democratic Party and (have the ruling party) come up with a proposal for the Commissions on the Constitution of the Diet no matter how difficult it is," Abe, leader of the LDP, said in the Upper House committee meeting.
Meanwhile, Abe urged the DP to make a counterproposal. "This is not a subject in which one side proposes a concrete plan and the other side only criticizes it," he said. The DP is against the constitutional revision sought by the Abe administration.
On why he expressed in the video his hope to see a revised Constitution in force by 2020, Abe said that "as the Tokyo Olympics and Paralympics will be held in that year, the opportunity to launch a new Japan will be ripe."
The Tokyo Games "have nothing to do with constitutional revision," Renho said. (Jiji Press)