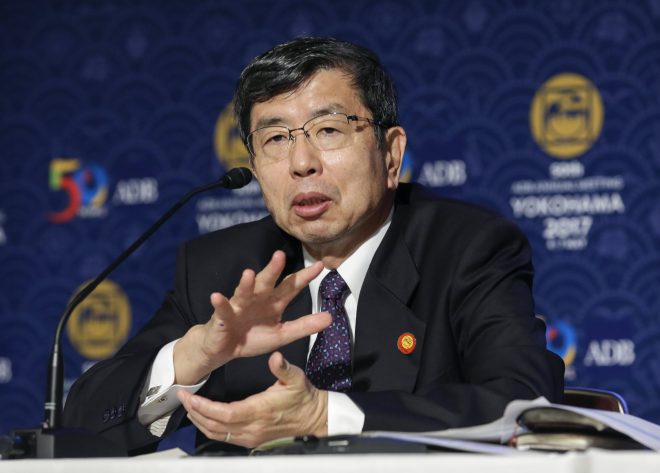 May 4, 2017
YOKOHAMA- 
The Asian Development Bank opened a four-day annual meeting in Yokohama, south of Tokyo,
on Thursday
to discuss ways to ensure sustainable regional growth.
About 4,000 officials from the bank's 67 members will discuss enhancing collaboration in promoting infrastructure investment and addressing healthcare issues in order to achieve further growth in the Asia-Pacific region.
Infrastructure investment totaling 1.7 trillion dollars will be needed every year in the region through 2030 in fields including electricity supply, transportation and telecommunications, ADB President Takehiko Nakao told a press conference.
Japanese Finance Minister Taro Aso chairs the annual meeting, the Manila-based regional development bank's first in Japan since the meeting in the western city of Kyoto in 2007. He is scheduled to deliver a speech
on Saturday
.
Nakao said the China-led Asian Infrastructure Investment Bank is not the ADB's rival but that the two institutions can cooperate with each other.
The two have already had three cofinancing deals and the ADB is ready to continue cooperating with the AIIB to meet growing demand for regional infrastructure financing, he said.
The AIIB has 70 members. Nakao said the ADB does not aim to compete with the AIIB in terms of the number of members.
He said the AIIB focuses on infrastructure investment while the ADB covers broader fields including education and healthcare. The two institutions have different goals and thinking, and can supplement each other, he said.
During a host-country event, the Japan International Cooperation Agency and the ADB signed an agreement to cooperate in regional health security.
The agreement called on JICA and the ADB to step up information-sharing and personnel exchanges between them to promote universal health coverage in the region. (Jiji Press)