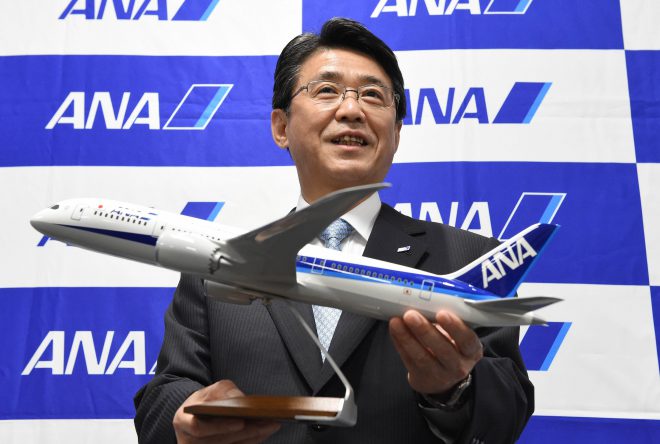 February 26, 2017
TOKYO- ANA Holdings Inc., the parent of major Japanese carrier All Nippon Airways, said
Friday
that it will make low-cost airline Peach Aviation a subsidiary.
The holding company will raise its equity stake in Peach to 67 pct from 38.67 pct at present by purchasing some of Peach shares held by Hong Kong investment fund First Eastern Aviation Holdings Ltd. and government-affiliated Innovation Network Corp. of Japan for 30.4 billion yen on
April 10
.
First Eastern's stake will fall to 17.9 pct from 33.33 pct, and that of INCJ to 15.1 pct from 28 pct.
ANA Holdings will aim to accelerate the growth of its low-cost aviation services partly through joint aircraft procurement with Peach, which is based in the town of Tajiri, Osaka Prefecture, western Japan. The ANA group and Peach have previously procured aircraft fuel together.
"We will fully support Peach's growth while respecting its operational independence," ANA Holdings President Shinya Katanozaka told a press conference in the city of Izumisano, Osaka Prefecture. (Jiji Press)