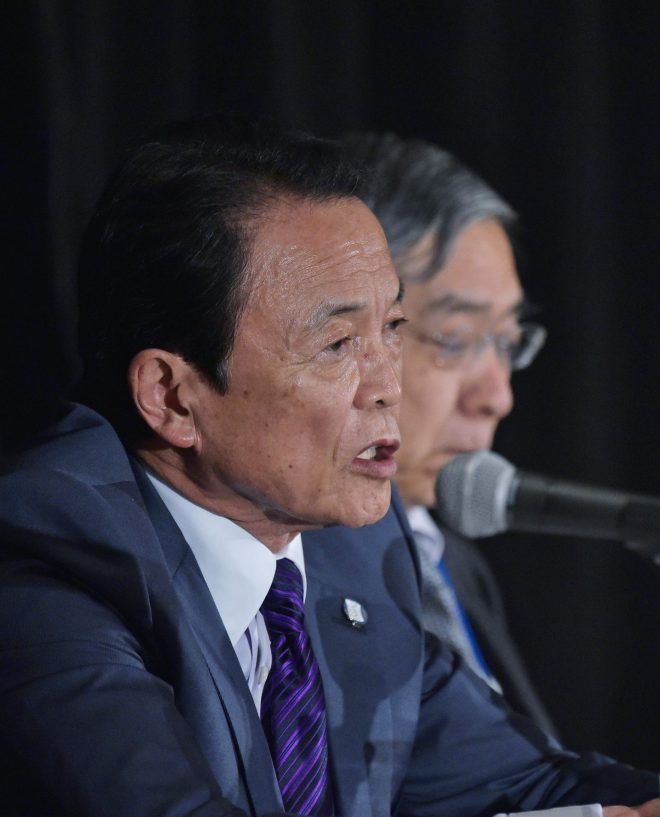 April 22, 2017
WASHINGTON- Japanese Finance Minister Taro Aso said
Friday
the United States would benefit from the Trans-Pacific Partnership free trade pact, which the world's largest economy has left under President Donald Trump.
"I think the TPP is a better scheme for both the United States and Japan" than a possible bilateral trade pact between the two countries, Aso told a press conference following a two-day Group of 20 gathering in Washington.
The remarks appeared to counter the Trump administration's eagerness to launch bilateral trade negotiations, including with Japan, after withdrawing his country from the multilateral trade agreement, signed by 12 countries in February last year.
After attending the first session of a new Japan-US economic dialogue in Tokyo
on Tuesday
, US Vice President Mike Pence said the new dialogue "may result in bilateral trade negotiations."
Aso, who doubles as deputy prime minister, said, "There's no guarantee that the United States would win a better deal in bilateral negotiations than the TPP."
"We will fully discuss these points" in the economic dialogue, he stressed.
Aso reiterated Japan's willingness to consider putting the TPP into effect with the remaining signatories.
On the Japan-US economic dialogue, Aso said both governments will promote working-level talks on the supply of US liquefied natural gas to Japan and Japan's cooperation for high-speed railway projects in the United States. (Jiji Press)