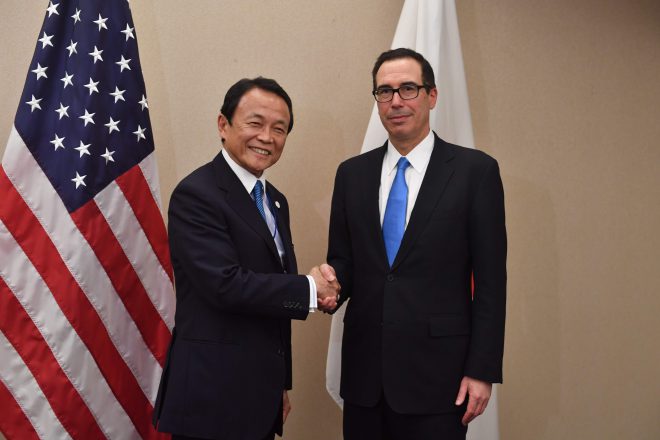 April 20, 2017
WASHINGTON- 
Japanese Finance Minister Taro Aso and US Treasury Secretary Steven Mnuchin
on Thursday
confirmed a Group of 20 stance that excessive fluctuations in foreign exchange rates are undesirable, Aso told reporters following their meeting in Washington.
While US President Donald Trump has warned against the dollar's appreciation, Aso said he and Mnuchin "reconfirmed" that currency issues are a topic that should be discussed by finance ministers.
The bilateral talks took place on the sidelines of a two-day meeting here through Friday among finance ministers and top central bankers from the G-20 advanced and emerging economies.
The Japanese and US finance chiefs also confirmed their countries' cooperation on economic sanctions over escalating tensions regarding North Korea and Syria, according to Aso.
The Aso-Mnuchin meeting gathered attention particularly after Trump said earlier this month that the dollar is "getting too strong," followed by Mnuchin's comment that a strong dollar is a "good thing" in the long term.
"We exchanged opinions from the standpoint of deepening and developing the Japan-US relationship," Aso told reporters.
On Tuesday
, Aso, who doubles as deputy prime minister, had talks with US Vice President Mike Pence in Tokyo, at the first session of the two countries' new economic dialogue.
The Japanese government has been wary of the Trump administration stepping up its pressure on Japan to address the yen's weakness against the dollar. (Jiji Press)