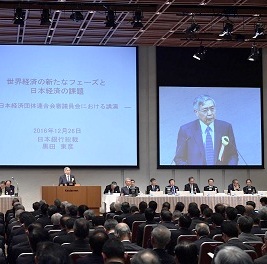 January 16, 2017
TOKYO
- The Bank of Japan
on Monday
lifted its economic assessments of three of the country's nine regions, including Tokai where Toyota Motor Corp. is headquartered, citing a pickup in consumer spending, while maintaining its evaluations of the remaining six regions.
"The effects of the decline in stock prices after early 2016 and of the irregular weather seen that summer had waned," the central bank said in its quarterly report, explaining why the assessments for the Tohoku, Kanto-Koshinetsu and Tokai regions were upgraded.
The yen's recent softening against other major currencies was also viewed as playing a part, particularly in the Tokai region where exporters like Toyota and its suppliers are based.
"The economy has been expanding moderately (in Tokai)," the BOJ report said, dropping the phrase "albeit at a somewhat reduced pace" used in the previous report in October.
Although the Tohoku and Kanto-Koshinetsu regions had said in the October report that slowing emerging economies were having an impact on production, such wording was dropped in the latest report.
The nine regions are Hokkaido, Tohoku, Hokuriku, Kanto-Koshinetsu including Tokyo, Tokai, Kinki, Chugoku, Shikoku and Kyushu-Okinawa.
The "Sakura Report" was released after a meeting of the central bank's branch managers. It is named after its cherry blossom pink cover and is regarded as a Japanese version of the U.S. Federal Reserve's Beige Book.
Japan's economy as a whole has been recovering moderately but has lacked strength amid weak corporate and consumer spending. In the face of lower crude oil prices and a strong yen, the BOJ has been struggling to attain its 2 percent inflation target.
BOJ Gov. Haruhiko Kuroda told the branch managers' meeting that the central bank will continue its monetary easing to achieve the target.
Despite growing uncertainties about U.S. economic policy under President-elect Donald Trump, the Japanese economy will "shift to moderate expansion," Kuroda added.
Since September, the BOJ has been trying to keep the 10-year government bond yield target at around zero percent, putting more focus on interest rates.
 Japan's core consumer price index, excluding volatile fresh food prices, fell 0.4 percent in November from a year earlier for the ninth straight month of decline, suggesting the BOJ is still far from achieving its inflation target.
While acknowledging the year-on-year change in the index is likely to remain slightly below zero or around zero percent for the time being, Kuroda said the figure is expected to rise toward 2 percent in the future. (Kyodo News)