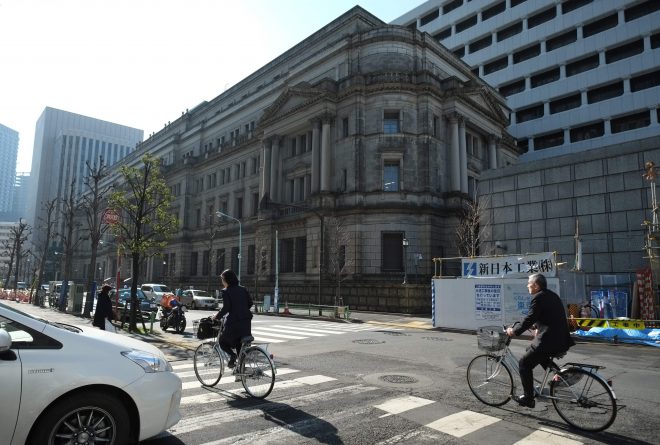 April 22, 2017
TOKYO- Bank of Japan policymakers are expected to discuss next week whether to lower the central bank's inflation projection for fiscal 2017, following a recent fall in mobile phone costs.
The BOJ's Policy Board is scheduled to release a quarterly Outlook for Economic Activity and Prices report including updates to its inflation projections, following a two-day monetary policy meeting from
Wednesday
.
In the previous report, released in January, the BOJ estimated that the country's core consumer price index, excluding fresh food prices, will rise 1.5 pct in the fiscal year that began this month from the previous year.
The core CPI, however, was up only 0.2 pct in February from a year before, mainly reflecting cuts in mobile phone prices and communication fees.
Furthermore, employers slo–wed down pay growth in this year's "shunto" nationwide labor-management spring wage negotiations.
Under these circumstances, "price growth momentum is weak," a senior BOJ official said.
Still, the BOJ expects that pay growth will begin to gather momentum on the back of labor shortages, as well as brisk production and exports, informed sources said.
Within the BOJ, there are calls for waiting to see the implications of a spate of price revisions this month, as well as corporate earnings forecasts for fiscal 2017, the sources said.
The BOJ is expected to keep its fiscal 2018 inflation estimate at 1.7 pct and newly announce a fiscal 2019 projection of around 2 pct.
The bank is seen as likely to maintain its current monetary easing policy. (Jiji Press)