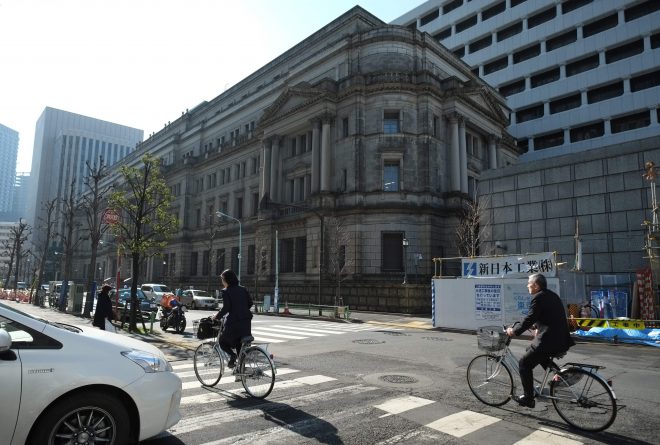 February 10, 2017
TOKYO- The Bank of Japan's monetary policy will not be fettered by US President Donald Trump's allegations of Japanese currency manipulation to guide the yen lower, a former senior BOJ official has said.
Former BOJ Executive Director Kazuo Monma offered his view in an interview ahead of a summit between Prime Minister Shinzo Abe and Trump on Friday, which may cover monetary and currency policy issues.
At the meeting, "Japan should clearly say it is not engaged in currency manipulation," said Monma, now executive economist at the Mizuho Research Institute.
Since job creation is Trump's top priority, the president is likely to blame a higher dollar if the employment situation in his country deteriorates, Monma said.
If the US economy is strong, however, a lower yen against the dollar will be tolerated, Monma said, predicting that currencies are unlikely to draw attention as long as the US economy and employment stay in good shape.
Monma said the BOJ conducts its monetary policy not to move currency rates but to achieve its 2 pct inflation target. Trump's comment "will not make the BOJ's monetary policy steering difficult at all," Monma stressed.
No matter who the US president is, there should be no problem in commenting on currency market developments to send out messages to stabilize the market when volatile moves affect economies negatively, Monma said.
On the possibility that remarks of Trump may disrupt international cooperation and throw the financial markets into turmoil, Monma said the markets have not reacted much to his recent controversial comments on Twitter.
Trump make comments in a way different from past presidents, but it does not appear that the markets take him at his every word and become agitated, Monma said.
Asked what message Abe should convey to Trump at the summit, Monma said it is important for the leaders to exchange candid opinions and build trust, rather than discuss concrete policies.
What they need to do is to establish a foundation of trust that will  facilitate talks between them when matters requiring discussion emerge, Monma said. (Jiji Press)