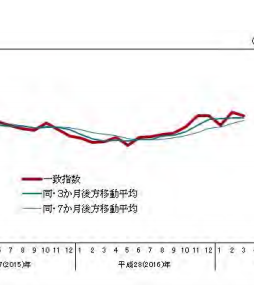 May 10, 2017
Tokyo- Japan's composite index of coincident economic indicators for March fell 0.6 point from the previous month, down for the first time
in two months
, the Cabinet Office said Wednesday.
The coincident CI, which reflects current economic conditions, stood at 114.6 against 100 for the base year of 2010, the government agency said in a preliminary report.
The drop came as production-related indicators were sluggish after growing in the preceding month, according to the agency.
The Cabinet Office kept its assessment of the coincident CI unchanged, saying that index is "improving."
Four of the seven component indicators available for comparison with the previous month's data contributed to the decline.
Indicators on production of mostly smartphone-related parts and on producer goods shipments fell from the previous month. Vehicle production was also weak.
Meanwhile, retail sales and the ratio of job openings to seekers were robust.
The leading CI, a yardstick for the economy's performance months ahead, rose 0.8 point to 105.5, up for the second consecutive month. The rise reflected an improvement in consumer sentiment and growth in housing starts, according to the data. (Jiji Press)