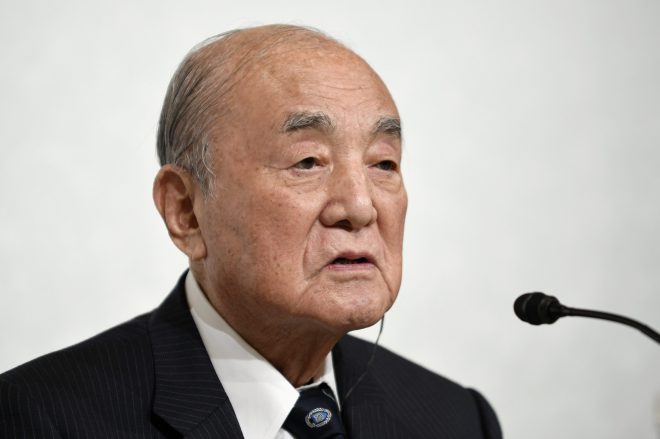 May 12, 2017
Tokyo- Japan should revise the war-renouncing Article 9 of the constitution to make it clear about the country's possession of a military for self-defense, former Prime Minister Yasuhiro Nakasone has said in his new book.
"It is necessary to clearly state Japan's intention to protect itself in a harsh security environment," Nakasone stressed in the book, be released on
May 24
, three weeks after the 70th anniversary of the effectuation of the country's supreme law.
The Self-Defense Forces should be recognized as a military for self-defense in the article's second paragraph, which currently forbids the possession of any military forces or war potential and denies the country's right of belligerency, he also said.
Meanwhile, Nakasone said the first paragraph of Article 9, which renounces war, should be kept unchanged.
His book will hit the market just after Prime Minister Shinzo Abe said
Tuesday
that he will put priority on Article 9 in efforts to revise the national charter.
Nakasone praised the current constitution for covering "democracy, basic human rights and pacifism," saying that they have become fully established among the Japanese.
But he raised questions about the US-led drafting process for the constitution. Japan needs to have a charter made by its own nationals for the first time since the Meiji era marked the start of modern Japan, he said, calling for broad-based participation in the possible amendment process. (Jiji Press)