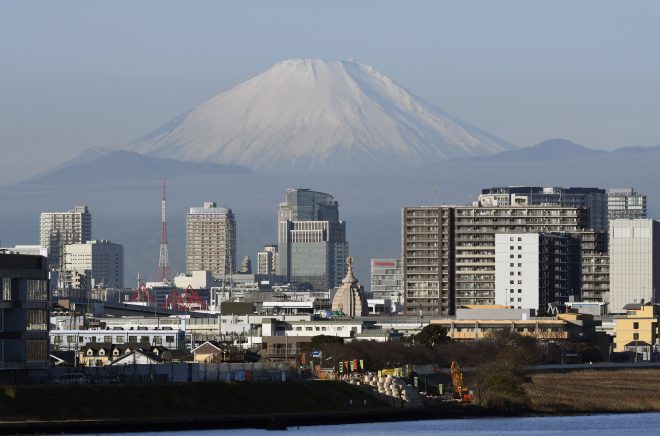 May 11, 2017
TOKYO- Japan's current account surplus in fiscal 2016 topped 20 trillion yen for the first time
in nine years
, thanks chiefly to oil and gas price falls, government data showed Thursday.
The country's current account surplus in the year that ended in March expanded 13.1 percent from the previous year to 20,199 billion yen, the third largest on record and the highest since fiscal 2007, when the black figure stood at 24,337.6 billion yen, the Finance Ministry said in a preliminary report.
The surplus growth is also attributable to a drop in the value of imports due to the dollar's depreciation by some 12 yen from the year before, ministry officials said.
In trade with the United States, Japan's current account surplus came to 12,724.4 billion yen in calendar 2016, down from 13,693.4 billion yen in 2015, the ministry said.
Despite the surplus shrinkage, the US government is likely to demand more loudly that Japan correct the trade imbalance because the gap is still wide, pundits said.
In fiscal 2016, Japan's imports plunged 10.9 percent to 64,886.6 billion yen amid the yen's rise, while exports declined 3.4 percent to 70,652 billion yen.
As a result, the country's goods trade surplus jumped 17.5-fold to 5,765.4 billion yen.
Japan suffered a deficit of 1,505.8 billion yen in services trade that includes travel and transportation services, wider than the year-before deficit of 1,352.7 billion yen.
Although the travel account surplus expanded to a record 1,278.9 billion yen thanks to a rise in the number of foreign visitors, the increase was not large enough to offset a drop in net royalty income on intellectual property rights and widening of deficits in many other services, the officials said.
The surplus on the primary income account, including Japanese companies' dividend and interest income from abroad, fell 13.7 percent to 18,035.6 billion yen due to the stronger yen.
Also according to the ministry, Japan posted a current account surplus for the 33rd straight month in March. But the black ink shrank 2.2 percent from a year earlier to 2,907.7 billion yen. (Jiji Press)