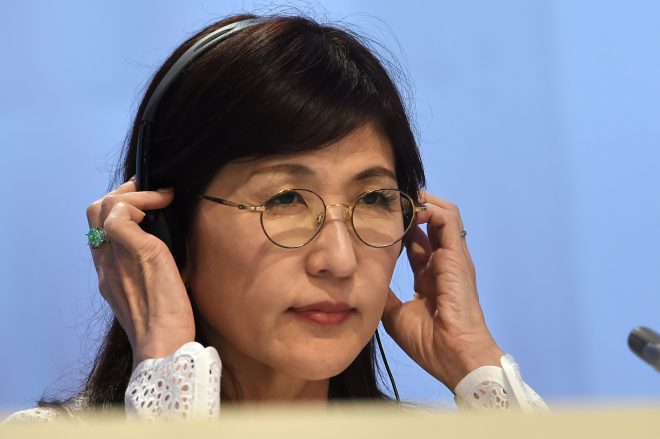 June 30, 2017
Tokyo- Japanese Defense Minister Tomomi Inada apologized 
Friday
 for her remarks earlier this week implying that her ministry and the Self-Defense Forces are behind a ruling party candidate in the Tokyo metropolitan assembly election set for 
Sunday
.
"I retract the remarks and apologize," Inada told a press conference. Reiterating her intention to stay on as defense minister, she vowed to "fulfill my duties with an intense attitude."
Asked whether she was aware that such remarks could constitute a violation of the public offices election law, Inada stressed, "I didn't mean to use my position for the election campaign at all."
At a separate news conference, Chief Cabinet Secretary Yoshihide Suga reiterated his hope that Inada will continue to work with good faith.
Suga refused to discuss allegations that Hakubun Shimomura, deputy secretary-general of the ruling Liberal Democratic Party, received donations from the scandal-hit school operator Kake Educational Institution during his term as education minister. "He will explain by himself," Suga said.
At a press conference, Foreign Minister Fumio Kishida said, "We should humbly accept any criticism for sloppiness (in the administration)."
Renho, leader of the main opposition Democratic Party, argued that Inada's remarks breached the SDF law and the constitution, as well as the public offices election law. "I don't understand why (Prime Minister Shinzo Abe thinks) there is no need to dismiss her," Renho told reporters. (Jiji Press)