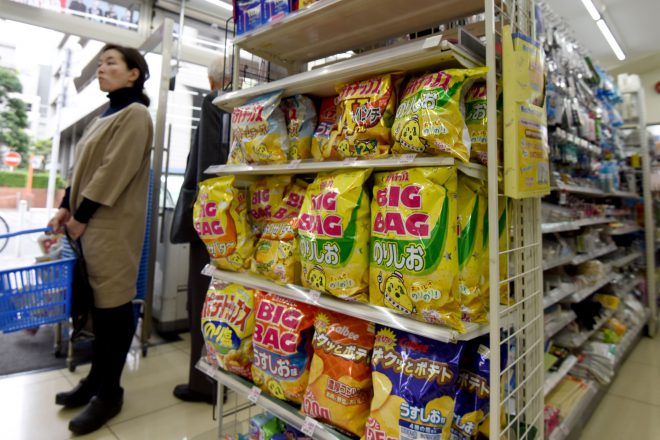 April 28, 2017
Tokyo- Things have come to a crunch for potato chip fans in Japan since major snack makers Calbee Inc. and Koike-Ya Inc.  announced a halt to sales of many such products two weeks ago due to a potato shortage.
People rushed to stores to stock up on their favorite snack, leading to scarcities of some popular brands.
A grocery store in Tokyo that completely sold out of potato chips last weekend said many customers bulk-bought the snack.
Convenience store Ministop Co. saw chips sold out almost as soon as they restocked their shelves.
"We have no choice but to put other snacks on the shelves after they (the chips) are sold out," a Ministop spokesman said.
Sold-out products are fetching big bucks online. A packet of Calbee's Pizza Potato Big, which normally costs around 280 yen, went for almost 1,000 yen in one Internet auction.
While sales of some products, such as Calbee's Pizza Potato, have stopped temporarily, flagship basic products are still available.
But the buying frenzy has spread to items whose production was not planned to be halted. Snack makers have taken measures such as scaling back shipments and canceling the launch of new products.
While many stores are having a hard time procuring stock, leading convenience store Seven-Eleven Japan Co. has managed to increase sales of potato chips across the board. (Jiji Press)