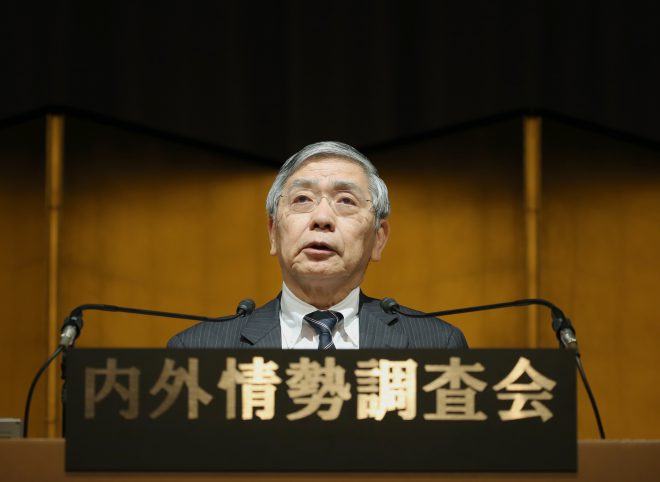 May 10, 2017
Tokyo- Bank of Japan Governor Haruhiko Kuroda said Wednesday he believes that economic developments overseas are "the largest risk factor" for the Japanese economy.
In particular, the economic policies of the US administration of President Donald Trump and their impacts on global financial markets "warrant attention," Kuroda said in a speech at a meeting sponsored by the Research Institute of Japan, a Jiji Press affiliate.
Free trade has contributed to substantially reducing income inequality and poverty around the world, he added, stressing that protectionism will not improve social welfare as a whole.
Kuroda also pointed to the need to pay close attention to negotiations on Britain's exit from the European Union and geopolitical risks such as the situations in North Korea and Syria.
On the domestic economy, Kuroda said, "Actual inflation rates have been somewhat weak recently."
Pointing out that risks "have continued to be skewed downward," the BOJ chief said, "I believe it is of utmost importance that the bank...persistently pursues powerful monetary easing."
It is "natural" that central banks around the world diverge in policy directions, Kuroda said, citing the US Federal Reserve's stance of seeking additional interest rate hikes. (Jiji Press)