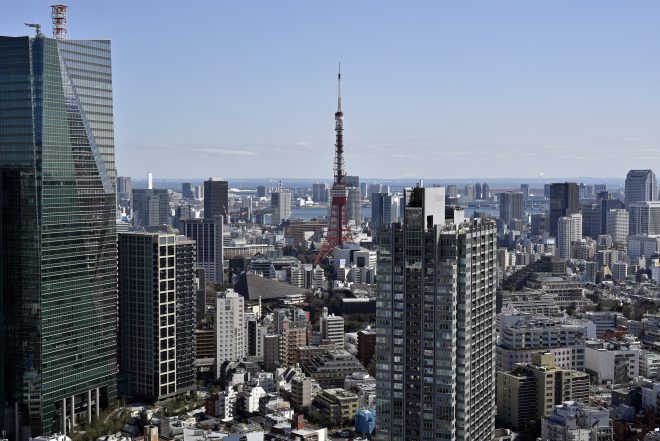 April 8, 2017
TOKYO- Japan's composite index of coincident economic indicators rose for the first time
in three months
in February, suggesting that the Japanese economy has extended its current phase of recovery to 51 months, the third-longest expansion in the postwar period.
The economic expansion started in December 2012, when the current administration of Prime Minister Shinzo Abe was launched. Despite the long recovery, personal consumption has been slumping as many Japanese people have yet to feel benefits, analysts said.
The coincident CI, which reflects current economic conditions, rose 0.4 point from the previous month to 115.5 against 100 for the base year of 2010, the Cabinet Office said in a preliminary report.
The leading CI, a yardstick for the economy's performance months ahead, was down 0.5 point at 104.4, the government agency said.
The Cabinet Office kept its assessment unchanged, saying that the coincident index is "improving."
Based on the indexes of economic indicators, a Cabinet Office panel of specialists determines the peak and the trough of an economic cycle retrospectively.
The Japanese economy entered the current recovery phase on the back of the yen's weakening and stock price rises after Abe took office.
The economy suffered a drop in personal spending due to a consumption tax increase in April 2014. But a Cabinet Office official said the economy is not in a situation for judging whether it has reached a peak, suggesting that a recession has not been confirmed.
In February, three of the seven component indicators that were available as of
Friday
contributed to the growth of the coincident CI.
The indicators for industrial production and for shipments of producer goods for manufacturing and mining improved thanks chiefly to strong demand for vehicle exports.
If the economic recovery continues until September this year, the current phase of recovery will exceed the 57-month "Izanagi" economic recovery, the second-longest postwar growth, which started in November 1965 and ended in July 1970.
Yoshiki Shinke, chief economist at the Dai-ichi Life Research Institute, said that "although the current phase of economic recovery is long, the growth rate has been low."
He suggested that improvements at Japanese companies have yet to spread to consumer spending. (Jiji Press)