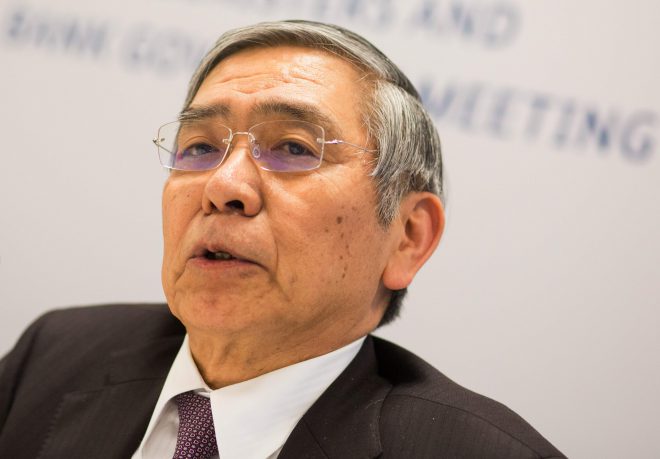 April 10, 2017
TOKYO- The Japanese economy remains on a recovery track and will likely shift to a moderate expansion, Bank of Japan Governor Haruhiko Kuroda said Monday.At a quarterly meeting of BOJ regional bureau chiefs, Kuroda also said consumer prices in Japan are expected to turn to slightly positive growth and then speed up the pace of increase toward 2 pct, a price stability target set by the Japanese central bank.
To achieve the target, the BOJ will maintain its quantitative and qualitative monetary easing policy as well as its yield curve control policy for as long as they are necessary, Kuroda said.
Meanwhile, Japan's current account surplus in February rose 18.2 pct from a year before to 2,813.6 billion yen, hitting the highest level for the month since comparable data became available in 1985, the Ministry of Finance said
Monday
.
The result came against a median forecast of 2,555.2 billion yen in surplus among 20 economic research institutes surveyed by Jiji Press.
The surplus, which marked the 32nd consecutive month of black ink, came as the country's merchandise trade surplus jumped some 2.7-fold to 1,076.8 billion yen.
The monthly trade surplus topped one trillion yen for the first time
in six years
and four months.
Exports grew 12.2 pct to 6,333.9 billion yen, up for the third straight month, thanks to brisk shipments of auto parts and electronic parts, including semiconductors, chiefly to China and other Asian countries.
The double-digit increase came after slow growth in the previous month, as China's Lunar New Year holiday period began in late January this year, while last year's holidays were in February.
Meanwhile, imports in February were up 0.3 pct at 5,257 billion yen.
In services trade, including transportation and travel services, Japan logged a deficit of 63.9 billion yen, in a turnaround from a year-earlier surplus of 163 billion yen.
Japan's surplus in the travel account plunged 30 pct to 89.7 billion yen. Visits from greater China during the Lunar New Year holiday period mostly ended before February, while the number of Japanese people who traveled to the rest of Asia and Europe increased.
The surplus on the primary income account, including interest and dividend incomes from abroad, shrank 1.9 pct to 1,975.1 billion yen. (Jiji Press)