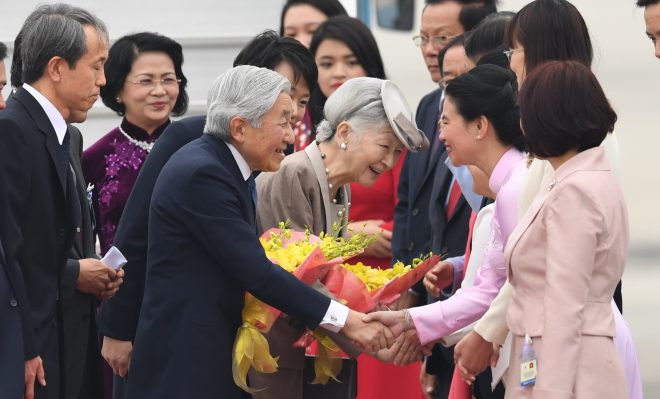 February 28, 2017
TOKYO- Japan's Emperor Akihito and Empress Michiko left for Vietnam on Tuesday morning for a six-day official visit aimed at promoting friendship between the two countries. A government jet carrying the Imperial couple took off from Tokyo International Airport at Haneda. This will be their first visit to the Southeast Asian nation.
The trip comes after the couple received invitations from past Vietnamese presidents who had visited Japan as state guests.
Just before the departure, the Emperor said, "It is our hope that our visit to Vietnam will contribute to the further development of the mutual understanding and friendly relations between our two countries."
After staying in Vietnam as state guests until
Sunday
, Emperor Akihito and Empress Michiko will visit Thailand to pay tribute to former Thai King Bhumibol Adulyadej, who died last October at the age of 88.
This will mark the couple's first overseas trip since their official visit to the Philippines in January last year.
On Wednesday
, the Emperor and the Empress will attend such official events as a meeting with Vietnamese President Tran Dai Quang and his wife, and a banquet to be hosted by the presidential couple, at the presidential office in Hanoi, the capital of Vietnam.
On Thursday
, the Imperial couple will meet with families of former Japanese troops who opted to stay in Vietnam after the end of World War II.
They will move to the central Vietnam city of Hue
on Friday
and visit a royal palace of the country's last dynasty there
on Saturday
.
The Emperor and the Empress will travel from Hue to Bangkok aboard the government jet on the afternoon of
Sunday
.
At a royal palace in the Thai capital later in the day, they will lay flowers for Bhumibol, with whom the couple had interacted for some 50 years, including the time when they were Crown Prince sand Crown Princess. The Emperor and the Empress will then hold a meeting with new Thai King Maha Vajiralongkorn.
The Imperial couple are scheduled to return home
on Monday
night. (Jiji Press)