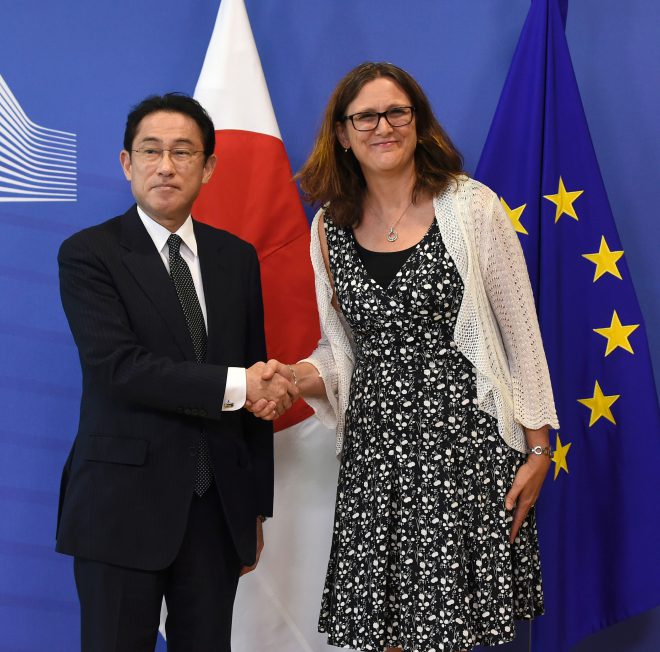 July 5, 2017
Tokyo- The European Union has decided to scrap its 10 pct tariff on passenger cars made in Japan over seven years under an envisaged bilateral economic partnership agreement, informed sources said Wednesday.
The EU has also agreed to eliminate its 14 percent tariff on television sets imported from Japan over five years, the sources said.
Japan and the EU are believed to have almost completed their negotiations on tariff cuts and elimination for industrial products, a key sector for Tokyo.
The two sides are accelerating their talks on cheese trade, with the EU demanding Japan open its market further to European products, according to the sources.
Japan and the EU aim to strike a broad EPA accord at a ministerial meeting from Wednesday or a summit between Japanese Prime Minister Shinzo Abe and EU leaders 
on Thursday
, the sources said.
With the existing free trade agreement between the EU and South Korea in mind, Japan called on the EU to abolish its tariff on Japanese passenger cars in some five years after the envisaged EPA takes effect.
But the EU remains resolute in its position that it needs at least seven years to abolish the car tariff, the sources said.
The EU's tariffs on electronic products other than TVs are expected to be generally eliminated immediately after the EPA comes into force.
In a bid to make a breakthrough in the cheese trade negotiations, Japan has proposed creating a low-tariff import quota for mozzarella, Camembert and other soft cheese and reducing the regular tariffs on the products drastically over 15 years, the sources said.
The EU is requesting Japan to eliminate the tariffs eventually, while Tokyo is maintaining its cautious stance. The two sides are also apart over the amounts of cheese products that will be imported under the quota. (Jiji Press)