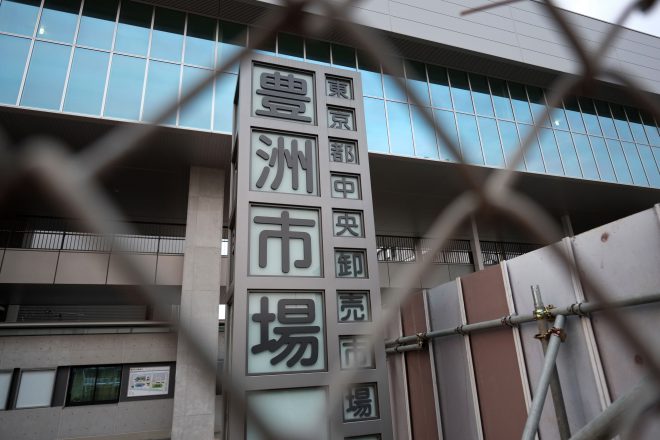 April 9, 2017
TOKYO- 
The site of the planned Toyosu wholesale food market would sell for 437 billion yen as land for high-rise apartments and commercial and other facilities, experts at a Tokyo metropolitan government team said
Saturday
.
The estimate is part of a proposal to give up the planned relocation of the aging Tsukiji wholesale food market to the Toyosu site and rebuild the Tsukiji market.
The proposal was submitted by three members of the team looking into problems related to the relocation, including team leader Toshiro Kojima. The team will release a report on the Toyosu issue in May.
The reconstruction of the Tsukiji market would cost 73 billion yen, with the expenses to demolish the Toyosu market buildings estimated at 15 billion yen.
The reconstruction, seen finishing
in seven years
, would not require the full closure of the Tsukiji market, according to the proposal.
Meanwhile, the current relocation plan would lead to an annual loss of 2.7 billion yen from the Toyosu market operations, requiring usage fee hikes and the use of taxpayer money in the future, the three members told people related to the Tsukiji market.
Some Tsukiji people supported the reconstruction proposal. But many wholesaler group members were absent from the session in which the three members explained their proposal.
The reconstruction proposal was drawn up by people who know little about a food market, said Hiroyasu Ito, leader of a key association of fishery products wholesalers. (Jiji Press)