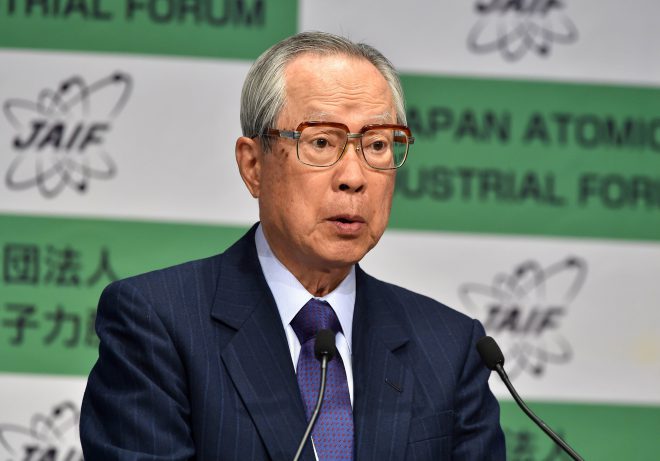 March 22, 2017
TOKYO- A panel set up by the Japanese government heard proposals on Wednesday from guest experts on possible titles for Emperor Akihito after his expected abdication.
At the day's panel meeting, the first in about two months, the three experts on the history of the Imperial Family proposed using the title "Joko," meaning retired emperor, or "Daijo Tenno," which can be translated as grand emperor. Both titles were used in the past.
The three experts invited to the 10th session of the panel were Keiko Hongo, professor at the University of Tokyo's Historiographical Institute, Naotaka Kimizuka, professor at Kanto Gakuin University, and Hitoshi Nitta, head of Kogakkan University's Faculty of Contemporary Japanese Society.
The panel, chaired by Japan Business Federation (Keidanren) Honorary Chairman Takashi Imai, asked them what title Emperor Akihito should assume after his possible abdication and whether he should be allowed to return to the Chrysanthemum Throne after abdication.
The experts were also asked to express their opinions on the funeral and the tomb that would be appropriate for Emperor Akihito after abdication, the treatment of him after abdication and what title Prince Akishino should assume after his elder brother, Crown Prince Naruhito, takes over the throne.
All three supported a funeral and a tomb similar to those for past emperors, while they were negative about allowing a return to the throne after abdication. The three also shared the view that the government should establish a new organization to support Emperor Akihito after abdication.
On the new title for Prince Akishino, Hongo proposed "Kotaitei," meaning brother and heir of the Emperor, while Kimizuka and Nitta favored "Kotaishi," or Crown Prince.
Also invited to the day's session was University of Tokyo Prof. Masahiro Akishita, an expert on geriatrics.
The way that aging affects individual autonomy differs from person to person, Akishita said, adding it does not follow that elderly people should not work.
The panel presented a report on
Jan. 23
setting out its position that Japan should establish a special law to allow only Emperor Akihito to abdicate.
Last week, leaders of the Diet, Japan's parliament, proposed adding a special provision to the Imperial House Law to provide a legal basis for the proposed special law.
The panel will work out its final recommendation as early as
April 21
so that it is reflected in planned legislation on the abdication that the government aims to submit after the Golden Week holiday period ends in early May. (Jiji Press)