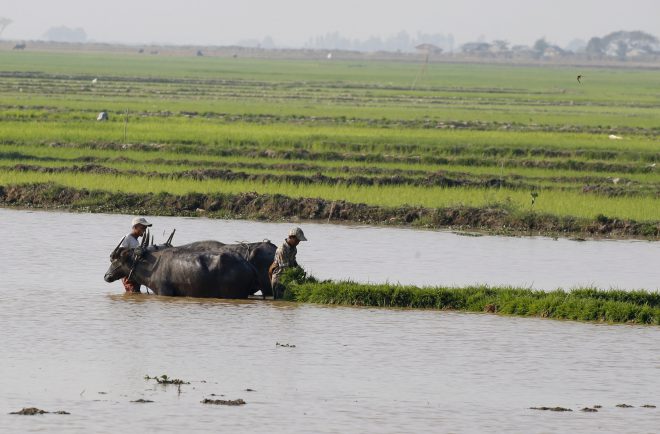 February 10, 2017
TOKYO- Japan's exports of agricultural, forestry and fishery products in 2016 grew 0.7 pct from the previous year to 750.3 billion yen, hitting a record high for the fourth straight year, a preliminary government report showed Friday.
The growth was attributed to brisk shipments of grapes and beef, according to the report, released by the Agriculture, Forestry and Fisheries Ministry.
It is uncertain, however, whether the government will meet its target of expanding annual exports to one trillion yen in 2019, as the pace of growth slowed due chiefly to the yen's rise against the dollar and other major currencies.
Between 2013 and 2015, Japan's exports of agricultural, forestry and fishery products posted an annual increase of 10-20 pct. The achievement of the government target requires marked export recovery.
Exports of grapes surged 50.4 pct and those of strawberries jumped 35.3 pct. Peach exports increased 10.8 pct.
The brisk fruits exports reflected strong demand from wealthy consumers in other Asian economies.
Driven by growth in exports to Hong Kong and the United States, beef shipments shot up by 23.1 pct and rice shipments by 21.2 pct, both hitting record highs.
Meanwhile, exports of scallops fell 7.2 pct following poor catches stemming from unfavorable weather. Shipments of tuna, bonito and related fish plunged 28.9 pct.
The ministry helps farmers and food makers expand their overseas sales. In addition, the ministry is asking for the removal of regulations on Japanese imports that stay in place in some economies since they were introduced in response to the March 2011 meltdowns at Tokyo Electric Power Company Holdings Inc.'s <9501> Fukushima No. 1 nuclear power plant in Fukushima Prefecture, northeastern Japan. (Jiji Press)