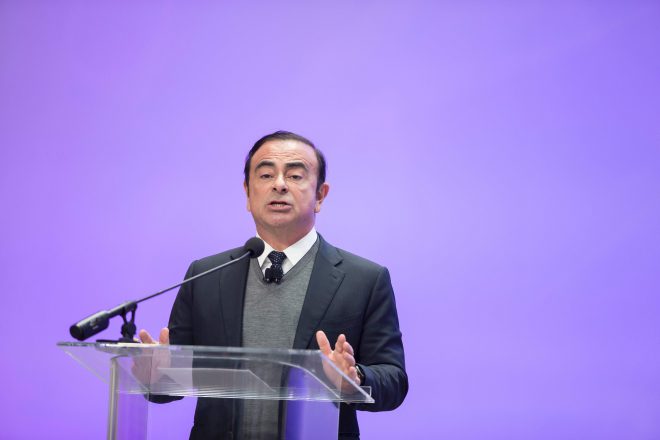 February 24, 2017
TOKYO- Nissan Motor Co.'s charismatic leader, Carlos Ghosn, is expected to promote work on fostering new managers at the major Japanese automaker after stepping down as its president and chief executive officer on
April 1
.
Ghosn, 62, who will stay as Nissan chairman with the representative right, is also seen concentrating on managing the alliance of Nissan and French auto giant Renault SA, which now also includes Mitsubishi Motors Corp., a Japanese automaker struggling amid a fuel efficiency data manipulation scandal.
Hiroto Saikawa, 63, co-CEO of Nissan, is set to succeed Ghosn as president and CEO of the automaker, according to the firm's announcement
on Thursday
.
The reshuffle comes about 18 years after Ghosn, from Renault, joined Nissan to spearhead the turnaround of the Japanese firm, which fell into a serious business slump following the collapse of Japan's bubble economy.
Ghosn entered Nissan in 1999 as its chief operating officer in line with the establishment of the Renault-Nissan alliance, and became its president in 2000.
Under his strong leadership, the company achieved a V-shaped recovery by, among other things, lowering a procurement costs through a cut in the number of auto parts suppliers and revamping its production system, based on the Nissan Revival Plan.
As a result, Nissan's global new automobile sales are expected to have reached around 5.6 million units in fiscal 2016, compared with 2.53 million units in fiscal 1999.
Its fiscal 2016 group net profit is seen rising to a record 525 billion yen, despite negative effects from the yen's strength.
Last year, Nissan effectively brought Mitsubishi Motors under its wing by acquiring an equity stake of 34 pct in the scandal-hit automaker. Ghosn became chairman of Mitsubishi to help its president, Osamu Masuko, 68, promote efforts to reconstruct the company.
Meanwhile, Ghosn last November named Saikawa co-CEO of Nissan, laying the groundwork for handing over his posts of president and CEO to Saikawa.
Combined annual automobile sales by Renault, Nissan and Mitsubishi total about 9.96 million units, coming close to the levels at global rivals--Germany's Volkswagen AG, leading Japanese automaker Toyota Motor Corp. and U.S. auto giant General Motors Co.
Still, managing the Renault-Nissan-Mitsubishi alliance will be tough.
While the possibility remains that the French government, a shareholder of Renault, for which Ghosn serves as president, chairman and CEO, may seek business integration of Renault and Nissan, competition is certain to intensify for the development of new eco-friendly cars and self-driving technologies.
In a statement released
Thursday
, Ghosn said, "I am confident that the management team I have developed at Nissan over the past 18 years has the talent and experience to meet the company's operational and strategic goals."
"Having recently taken on new responsibilities at Mitsubishi Motors and taking into consideration the upcoming Nissan general shareholders meeting, I have decided that the time is right for Hiroto Saikawa to succeed me as Nissan's CEO," Ghosn added.
The capabilities of the incoming Nissan president and CEO and his management team will be tested from now, industry analysts said. (Jiji Press)