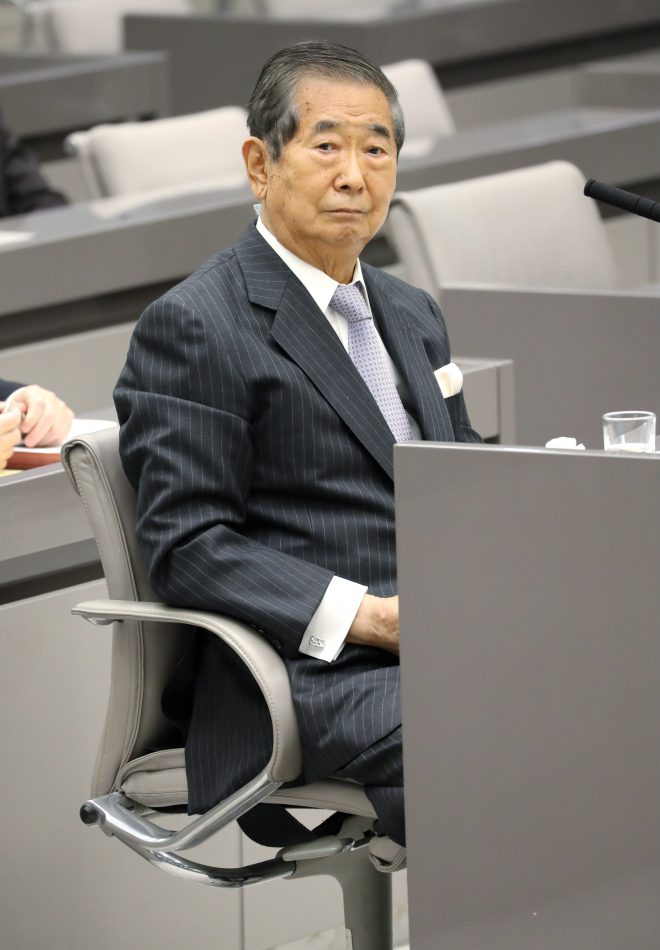 March 20, 2017
TOKYO- Former Tokyo Governor Shintaro Ishihara reiterated on Monday that he knew nothing specific about the metropolitan government's negotiations to acquire a land plot for the relocation of the aging Tsukiji wholesale food market in Chuo Ward.
"I had entirely entrusted" then Vice Governor Takeo Hamauzu to carry out the talks with Tokyo Gas Co.  to acquire the polluted land tract in Toyosu in the neighboring Koto Ward, Ishihara said in his testimony as a sworn witness before the metropolitan assembly's powerful investigative committee.
While admitting his responsibility as then chief of the capital for making a final decision on the Toyosu site acquisition, Ishihara said, "I have not received at all detailed reports (from Hamauzu) on progress in the negotiations."
Hamauzu, who testified before the same committee the previous day, was commissioned by Ishihara in October 2000 to lead the negotiations and struck a basic accord in July the following year through behind-the-scenes talks.
On March 3, Ishihara already explained at a press conference that he gave Hamauzu, his right-hand man, a negotiation freehand and insisted that the whole of the metropolitan government should hold accountable for issues concerning the relocation of the Tsukiji market, the biggest seafood market in Japan, to Toyosu, including insufficient pollution control measures at the new market.
In his one-hour testimony before the committee, set up under Article 100 of the local government law, the former Tokyo governor also said he does not remember whether or not he was informed of an agreement with Tokyo Gas that the Tokyo government would not ask the land seller to shoulder additional soil cleanup costs.
Meanwhile, Ishihara blamed current Governor Yuriko Koike for "confusing safety (in scientific terms) with security (in an emotional terms)" in deciding to put off the Tsukiji market's relocation to Toyosu.
The metropolitan government said
Sunday
that levels of benzene of up to 100 times the national government-set environmental limit were detected in groundwater samples taken recently at the Toyosu market, along with other toxic substances.
But Ishihara argued that the groundwater contamination does not matter because what matters most is whether soil there is tainted excessively. Pointing out that "experts agree that the Toyosu market's soil is safe," he stressed that Koike should give the go-ahead for the relocation as soon as possible.
Ishihara was the first former Tokyo chief to be summoned by the so-called Article 100 Committee to testify as a sworn witness. His testimony was initially set to last three hours but shortened to one hour for his health reasons. (Jiji Press)