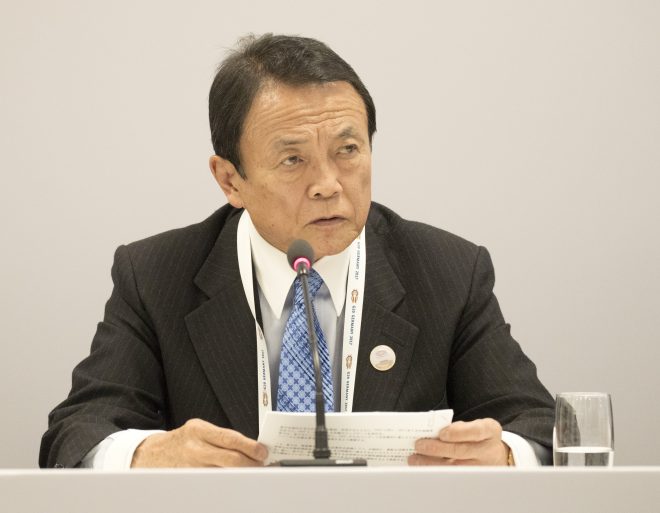 March 19, 2017
BADEN-BADEN- Top finance policymakers from the Group of 20 leading economies
on Saturday
dropped their long-standing pledge to fight protectionism due to opposition from the United States.
The G-20 finance ministers and central bank governors ended their two-day meeting in Baden-Baden, Germany, without renewing their commitment to fighting protectionism and promoting free trade.
A joint statement issued after the meeting only said, "We are working to strengthen the contribution of trade to our economies."
Since their meeting in February 2015, the G-20 officials had repeatedly vowed to resist protectionism in their statements.
The United States opposed any antiprotectionism commitment as the administration of President Donald Trump is pursuing "America first" trade protectionist policies.
Washington insisted that the statement should stress the importance of promoting free and fair trade instead of pledging to resist protectionism.
U.S. Treasury Secretary Steven Mnuchin, speaking at a press conference after the meeting, reiterated that Washington's priority is reducing the U.S. trade imbalances. The United States believes in free but balanced trade, he said.
At a separate press conference, Japanese Finance Minister Taro Aso said the G-20 countries will continue discussions on trade toward their summit meeting in July.
The G-20 officials also dropped their pledge to step up the fight against climate change amid the Trump administration's reluctance to limit emissions.
The officials renewed their commitment to avoiding competitive currency devaluations. "We reaffirm our previous exchange rate commitments, including that we will refrain from competitive devaluations and we will not target our exchange rates for competitive purposes," the joint statement said.
The statement also reiterated the G-20 countries' view that "excess volatility and disorderly movements in exchange rates can have adverse implications for economic and financial stability."
On the global economy, the statement said that while its recovery is progressing, "the pace of growth is still weaker than desirable."
"We reiterate our determination to use all policy tools--monetary, fiscal and structural" to achieve sustainable global growth, it said. (Jiji Press)