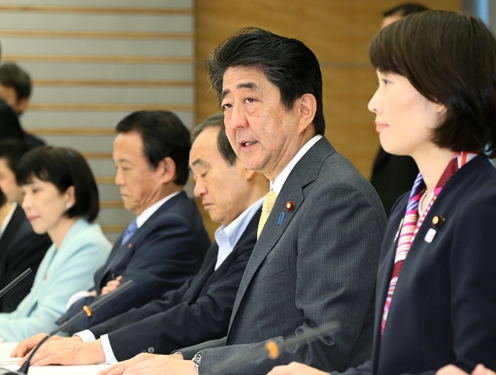 April 4, 2017
TOKYO- 
The Japanese government adopted
Tuesday
basic security strategies for the 2020 Tokyo Olympics and Paralympics featuring the establishment of a 24-hour coordination center at the prime minister's office.
The center, to be headed by the deputy chief cabinet secretary for crisis management, will take charge of collecting related information and carrying out necessary adjustments among related organs.
At a government meeting on the promotion of the 2020 Games, where the strategies were adopted, Prime Minister Shinzo Abe called for a full and steady implementation of security measures.
"Ensuring security is a prerequisite for the success of the games," Abe said.
He specifically sought greater and extensive efforts in the fight against terrorism, stressing the need to pass a bill to criminalize acts of preparing terror attacks.
The security strategies stressed the importance of enacting the legislation, noting that the threat of terrorism against Japan has become a reality.
Under the strategies, the government will cooperate with the organizing committee for the 2020 Games to conduct thorough warning and surveillance activities around and over game venues.
The strategies also included taking cybersecurity measures and setting up a new organization under the leadership of the National Police Agency to collect and analyze terrorism-related information. (Jiji Press)