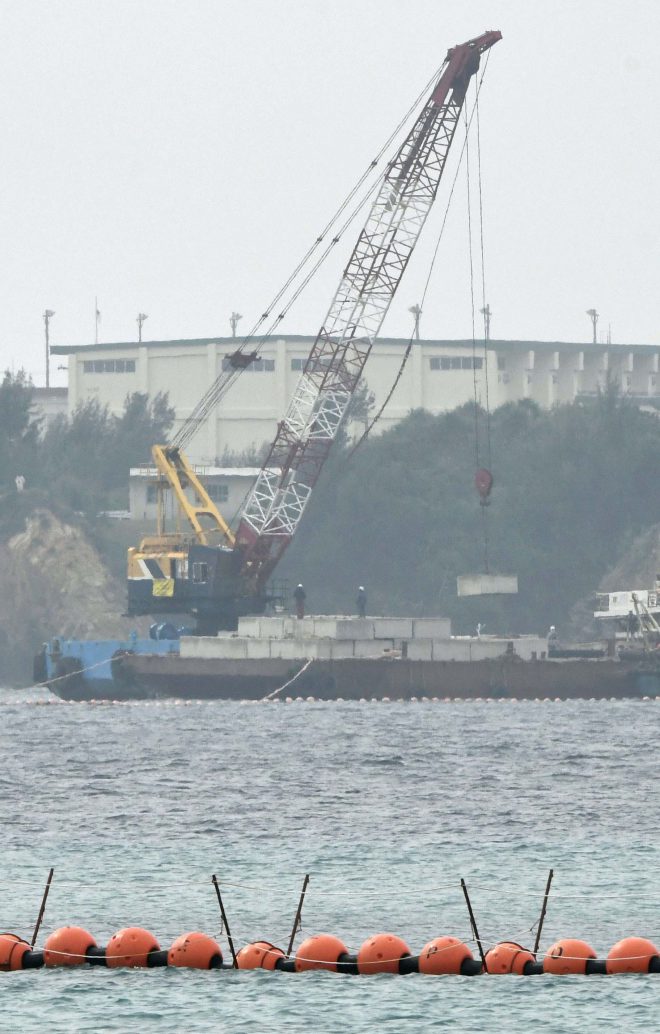 February 6, 2017
Naha, Okinawa Pref.- The Japanese Defense Ministry started on Monday maritime work off the Henoko district in Nago, Okinawa Prefecture, to build a replacement facility for the U.S. Marine Corps' Futenma air station in the same southernmost Japan prefecture. 
The ministry's Okinawa Defense Bureau moved forward with the main landfill process for the transfer of functions of the Futenma base, located in a densely populated residential area in Ginowan, after Japanese and U.S. defense chiefs agreed at their meeting in Tokyo
Saturday
that building the replacement facility off Henoko was the "only solution" to avoid permanent use of the base.
According to the bureau's maritime work schedule, silt fences will first be set up to prevent waters around the construction area from being polluted by the land reclamation. To fix the fences, a total of some 220 concrete blocks will be put into the sea over the next three months or so.
Two crane ships, two concrete block-carrying barges and one drilling survey vessel arrived in the work area
on Sunday
.
On Monday
, workers began to load the crane ships with the blocks.
"The starting point was to close the Futenma base to eliminate its dangers (posed on Ginowan residents)," Japanese Chief Cabinet Secretary Yoshihide Suga told a press conference
on Monday
. "We will carry out the relocation to Henoko steadily," he said.
The Okinawa prefectural government strongly opposes the relocation within the prefecture, which hosts a bulk of U.S. military bases in Japan.
"The state and Okinawa governments should deal sincerely with the situation, in compliance with the law," Suga said, referring to a Supreme Court ruling in December last year that finalized the central government's victory over the battle for the transfer of the base.
Returning from a visit to the United States
on Sunday
, Okinawa Governor Takeshi Onaga told reporters at Naha Airport that he would never allow the central government to start the maritime work without an advance accord with Okinawa.
The government of Prime Minister Shinzo Abe "continues to play rough," he said.
Onaga now plans to use his authority as governor to take countermeasure, people familiar with the matter said. (Jiji Press)